The 2016 Rio Olympics have resulted in some spectacular results already. Albeit the usual suspects took home a lot of the medals in various disciplines, many sports still need to crown their individual and team winners. Europe is, despite all odds, performing rather well in the Olympics so far.  In fact, Bitcoin bettors can put their wager on how well they think their country well perform in the grand scheme of Olympic medals.
Belgium has surprised and disappointed a lot of people
Not too long ago, Belgium used to be a country other competitors looked up to when it came to the Olympics. We had athletes excelling in various disciplines, including tennis, athletics, and cycling. But over the years, the gap between the "performing" generation and the "inexperienced" generation caused a lull in the number of Olympic medals.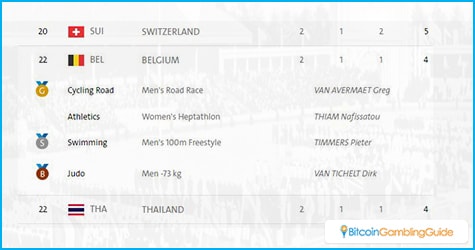 To be more specific, Belgium seems to do slightly better during the Summer Olympics compared to the Winter editions. The previous Olympics in 2014 resulted in zero medals for Belgium, whereas we scored three medals in 2012. Granted, none of those medals was a gold one, but one silver and two bronze was not bad either.
The 2016 Rio Olympics have proven eventful so far for my own country, even though we have had our share of disappointments as well. In saying so, it is not the intention to diminish what Greg Van Avermaet, Nafissatou Thiam, Pieter Timmers, and Dirk Van Tichelt have achieved. All of these medals came as quite pleasant surprises, and it is good to see we scored a medal in four different sports.
But we had high hopes for David Goffin in the tennis department. Despite a valiant effort, he did not get through to the end stages, which was a bit disappointing. Men's golf concluded yesterday as well, and we had two Belgian players who could have scored a medal if they were on their A-game. Unfortunately, the best result we got is a fourth place, which makes us "the best of the rest". Not to mention how the Borlées disappointed the entire nation by losing in the first heat of the 400m.
Bitcoin betting on more medals is possible
That being said, we should not dwindle on the past, and look towards the future. There is plenty of action left for the Rio Olympics, and we can score some more medals in the process. In fact, it would be worth wagering some Bitcoin on whether or not we can achieve that goal. It may not help matters in the end, but we should use every possible way of supporting our athletes.
In fact, there are multiple ways to bet on whether or not my—or your—country will pick up some more medals. DirectBet has some odds for the Rio Olympics that may be of particular interest to Bitcoin bettors. I am fairly confident the Belgian Red Lions can win the men's hockey tournament, and the odds at 4.50 are quite appealing to place a Bitcoin bet on the outcome.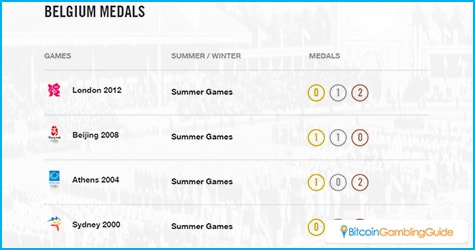 For more specialized bets, however, Bitcoin users may want to check out the BetMoose prediction market. Users can create their own bets on this platform and wager in a peer-to-peer fashion against other Rio Olympics enthusiasts. For example, if I were to say Belgium wins a medal during the men's 4x400m, I could easily create that event.
---
What are your thoughts on your country's performance in the Rio Olympics 2016? Let us know in the comments below!