This year's Belmont Stakes will not have the Triple Crown up for grabs but it sure has piled up quite a bit of drama on the run up to it. For one, Exaggerator, the 9-5 favorite to win the race, is going to be jockeyed by Kent Desormeaux, who just left alcohol rehab a week ago. Another point of drama is that Lani, a Japanese-based colt that is participating in the race, is being kept in total seclusion because of it being so anti-social. Furthermore, Suddenbreakingnews lives up to his name by revealing to the world that he is not actually gelded by having one of his testicles descend.
All of these can contribute to who will be winning this year's Test of Champions. Bitcoin sports bettors will want to put down their wagers for this dramatic showdown, even without the presence of Exaggerator's nemesis Nyquist. This also happens to be the last major horse race of the year in the US so anyone who wants to get a piece of the action will want to join in.
Where to bet
There are four online sportsbooks that Bitcoin sports bettors may take their business. First, there is the combination of Bovada.lv and Bodog.eu. Both sites have integrated Bitcoin into their payment system with the help from Bitpay. Betting on the Belmont Stakes on these two sites is also simple. Bettors just click on the tick boxes of the horses that they think will win, place, or show. Another click adds the bet to betslip.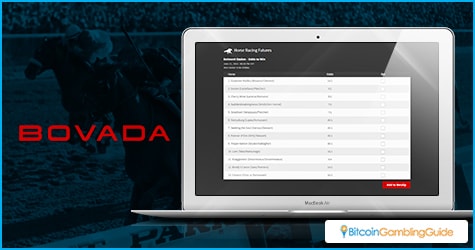 DerbyJackpot is another online sportsbook that accepts Bitcoin. Players can deposit bitcoins via the GoCoin, the payment processor in charge for the Bitcoin transactions on the site. GoCoin makes it easy for Bitcoin sports bettors to deposit into their account and ensure they have the money for a bet.
Another Bitcoin sportsbook that covers the Belmont Stakes 2016 race is DirectBet. With support for both Bitcoin and Ethereum, cryptocurrency gamblers are assured of convenient betting transactions on the horses. This, along with DerbyJackpot, offers live betting, so players can expect more excitement and variety in online bets.
Betting strategies
All of these sportsbooks are offering the same odds. For sports bettors, what is important is to place a wager on the right horse. The main factor to remember is that the Belmont Stakes runs for a mile and a half. That is a long race to run and not many horses have the stamina for it.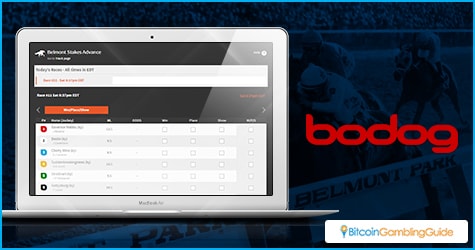 One of the horses in the race, Destin, has proven itself doing well in distance races. Exaggerator looks to be a good bet but has had a bit of trouble with distance in the past. Other horses to consider are Stradivari and Lani. The former has a good pedigree and has been tipped the favorite quite a few times, while the latter has managed to prove its distance chops.
The Belmont Stakes has always been unpredictable. This just means that this race is for any horse to win, so Bitcoin sports bettors will enjoy it.