The lucky player who won 120 BTC in December while playing at BetChain Casino effortlessly doubled his winnings. This is all thanks to the soaring Bitcoin price last month.
The BetChain Casino player thought it would be fun to play the Safari slot from Endorphina. But little did he know that this game would make him richer by over a hundred more bitcoins. The optimistic Bitcoin price movements during that time only amplified the jackpot and gave him $142,000 in total.  This is a huge jump from the $93,000 converted prize money based on the Bitcoin price then at $775.
Casino jackpots get bigger with higher Bitcoin price
The amount the player won was huge because it was in Bitcoin and not in fiat currency. By betting with Bitcoin, he could wager with small denominations. For instance, 0.10 BTC is worth almost $90 at the time of writing.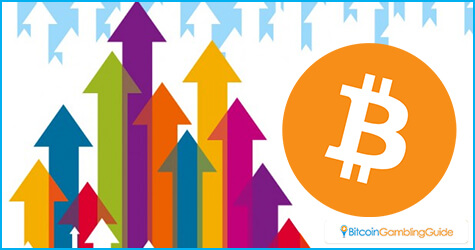 The BetChain Casino player was wise to keep his bitcoins for a few more days before exchanging them to fiat. Waiting for the Bitcoin price to peak would result in a higher conversion, making the 120 BTC jackpot at BetChain Casino to worth more.
This is one way Bitcoin casino players benefit from the increasing Bitcoin price. Although the price has significantly dropped since then, it still borders on the $900 mark. This means that the 120 BTC won last month would still worth more even when exchanged these days.
While others would advise bettors to exchange their bitcoins right away or reuse them as bankroll, it is still a wise move to hold on to them and wait for the right time to convert them. An increasing price trend for Bitcoin should be a sign for players to consider exchanging their bitcoins to maximize the higher conversion rate.
More jackpots from BetChain Casino and Endorphina
Endorphina's Safari slot on BetChain Casino is just one of the many other games that a player can get a massive payout from. Players can win 10,000 coins when they catch five lion symbols on an active line. Doing this will earn them the Bitcoin slot jackpot.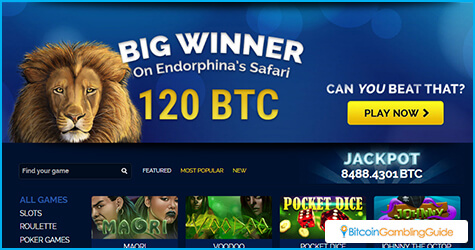 There are more Bitcoin slots developed by Endorphina that are on board BetChain Casino. Jetsetter slot and Satoshi's Secret slot are just two of the many Endorphina slot games available in the Bitcoin casino. Endorphina slots are known for their generous jackpots and bonuses as many players have already won huge Bitcoin wins by simply playing these games.
However, players who want to target higher jackpots should give progressive slots a try. Bitcoin progressive slots have a massive prize pool that increases by the minute. Players who will get lucky can win more than the converted jackpot amount won by the BetChain Casino player.
BetChain Casino offers improved games and jackpots on top of the enticing bonuses for Bitcoin and real-money players.