This year's Rio Olympics are an incredible display of athleticism. With over 30 sports being competed in, the Olympics are a sports bettor's dream. A lot of sportsbooks are acknowledging this and they want the bets coming their way.
Even non-sportsbooks are getting into the Olympic fever. The best way to do attract bettors is by offering promos which give more bang for their buck. Two recent examples of such promos are the ones being offered by BetChain Casino and SportsBet.io.
BetChain Casino
Though BetChain Casino is not a sports book, it still celebrates with an attractive promo the much-awaited sporting event that happens only every four years. This is a multi-part promo, so it can offer a lot to players on the site.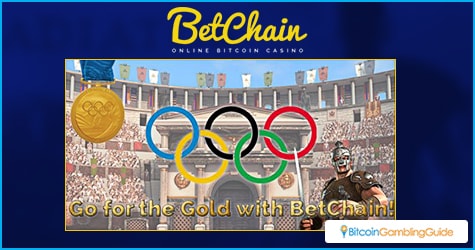 One part of the BetChain Casino promo encourages players to spin the reels of the Bitcoin slots on board. The slot games on BetChain Casino will record the highest wagers made every day. The top three bets will receive a prize from the online casino. Gold winners will either receive a 0.05 BTC or €15 bonus. Moreover, silver winners in the promo will get a 0.01 BTC or €10 bonus. Finally, Bronze winners will get a 0.005 BTC or €5 bonus.
That is not all that the promo offers. Players can also get 10 free spins when they post "Going for the Gold with BetChain" in select online forums. Once the Olympics are ended, the site will declare the Grand Slot Winner by totaling the wagers made through the entire month. The highest spender will be awarded an iPad.
SportsBet.io
SportsBet.io, on the other hand, is running its own promotion. This one is a traditional lottery that will have its draw on Aug. 9 at 11:00 GMT. The time for getting tickets run from Aug. 5 at 00:01 GMT until Aug. 8 at 23:59 GMT, so players can still catch up.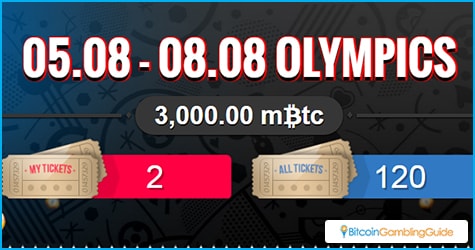 Only one ticket per day is allowed per person, per IP, and per household. This is earned by making a wager on any of the sports events being offered on the site, though this is only for real-money bets. Bettors will be automatically credited the tickets the next day. This means, at most, a player should have four tickets, limiting their chance of winning.
When the draw is done on Aug. 9, over 26 lucky winners will share in the 3,000 mBTC prize. The first prize will be set at 1,000 mBTC, while the second prize winner will receive 500 mBTC, and the third will receive 200 mBTC. For the fourth to the sixth prize winners, they will get 100 mBTC. Everyone else will receive 50 mBTC. Winners will be notified by email and will be credited soon after.
These two interesting promos are just the tip of the iceberg. People can expect more Olympic promos in the upcoming days as the Olympic fever heats up.