Betcoin Poker, as part of the Winning Poker Network, is hosting once again the High Five Tournament Series this June. The last time this happened was last January and it was a stunning success across the entire Winning Poker Network. Poker players are always hungry for competition and having a big prize to win does not hurt.
With Betcoin Poker's position as one of the foremost Bitcoin-only poker rooms, this is another feather to its cap. Bitcoin poker players will love the variety provided by the tournament, as well as the generous prizes. It is perfectly timed, too.
With the World Series of Poker in full swing, a lot of those who are not able to attend will want a big-money event to spend their cash on. Furthermore, the prizes are generous enough that successful players may win enough to join in the later part of the World Series.
5 tournaments daily in 5 days
The High Five Series is a set of tournaments slated to happen from June 8 to 12. Betcoin Poker already runs its Turbo 10 and Big 10 tournaments every day, as well as the many casual tables for players who do not want to get competitive yet. This will add five more tournaments per day.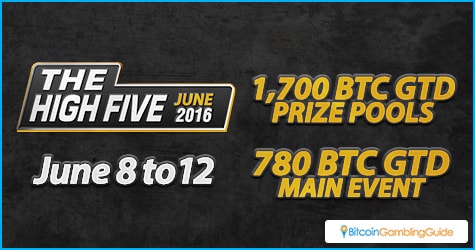 The tournament series has a widely varied format. Some of the tournaments are normal poker games, following only the simple variations like Omaha rules or Texas Hold 'Em. However, some of them have additional rules like additional buy-ins, mega-stacks, and more.
For those interested in joining, it is important that they check what rules will be in play for the particular tournament they are joining. It is also necessary to check out the buy-in for each tournament. Some tourneys have a low buy-in, some as low as 0.001 BTC, while others can reach up to 0.93 BTC. Not all players can join all tourneys, so it is best to be aware which ones to focus on.
There is also an interesting little tradition to be aware of. Every 4:20 EST, as long as the tourney lasts, there will be a 10-minute break. This started last year during the 4/20 celebrations and has been so popular that they decided to bring it back.
For the prizes, there is a reason the series is called "High Five." With a total of 1,700 BTC in guaranteed prizes, this will be a very profitable tournament for its winners. The main event itself is offering around 780 BTC for the grand prize. That is around $420,000 in terms of real currency as of writing.
Players who will be joining the tournament will not be disappointed when they play on Bitcoin Poker. All of the tables have been upgraded to WPN standards. This means WPN players should be familiar with how they work.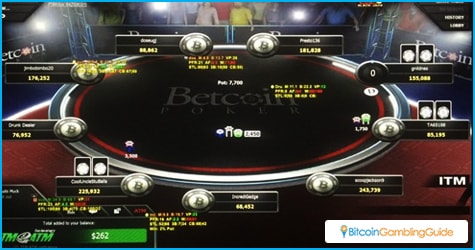 Additionally, pairing up with the WPN tournaments on Betcoin Poker, the site offers great bonuses for its poker players, with a large rakeback and depositor bonuses.
Operating under the Betcoin.ag management, Betcoin Poker promises smooth operations all throughout, providing players with user-friendly services that cater to both Bitcoin and Litecoin deposits.