BetKing.io's reign as a trusted Bitcoin dice site already came to an end after it quietly exited the Bitcoin gambling industry during the last hours of 2016.
Formerly called Pocket Rockets Casino, BetKing.io made a strong impact on the Bitcoin gambling community in its recent years of operation. This is the reason BetKing's CEO known as Dean surprised most players when he announced on his website and on the site's official Bitcointalk thread the closure of the Bitcoin dice site.
Players can still withdraw their funds and claim their balance within January or February, according to the announcement. The sudden closure, however, yielded contrasting reactions from the community.
What pushed BetKing.io to close?
In the past months, BetKing.io made a buzz in the industry. Early in 2016, BetKing shared that it paid out in 2015 over 35,000 BTC or an equivalent of $15 million during that time. By mid-2016, a high-roller player won 250 BTC in a single dice roll, making this one of the most remarkable wins last year.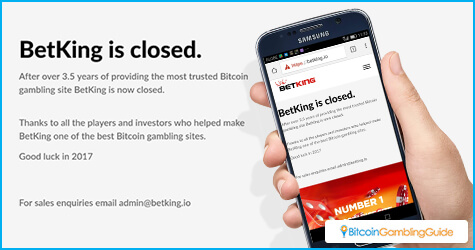 The continuous support and trust of the community positioned the site to perform better going into 2017. But all expectations clearly failed to materialize as the CEO thought otherwise.
Dean, CEO of BetKing.io, said:
"BetKing is very profitable and I have made good money off of it but I'm not the type of person to settle for being #2 at something. It's a very unhealthy obsession that has started effecting [sic] my daily life off of BetKing which isn't good. I could leave it open and neglect it and still make a very good living but I wouldn't be happy with that.
Some players, however, saw the rather personal reason to be lacking and looked for other possible factors like security breaches and even scam. While many players salute the honest operation of BetKing, some questioned the BetKing.io ICO crowdsale put up in November last year.
Could the ICO crowdsale be a factor?
Before the end of November, BetKing launched an ICO crowdsale to run from Dec. 1, 2016 to Jan. 1, 2017. The purpose was to raise to expand the offerings of the site and welcome provably fair casino games, poker software, and a sports betting platform.
The target amount for the campaign was 2,000 BTC. In the event that the crowdsale failed to reach the target, all invested bitcoins would be returned. Unfortunately, the campaign generated 620 BTC only by Dec. 30.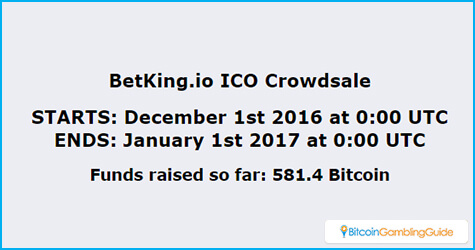 Most investors opted for a refund instead, given that the ICO was cancelled after not reaching the target amount. It also proved to be wise to do so since the Bitcoin price in the past weeks had been soaring.
Is there still a future for BetKing.io?
Despite his Bitcoin gambling site's exit, Dean still showed optimism toward Bitcoin gambling, saying:
"I think Bitcoin gambling has matured and improved a lot since BetKing started and players have a much safer environment to play."
Now that BetKing.io closed officially, many players still hope it would return to normal operation soon. This, apparently, could happen since BetKing.io is now on sale. Interested buyers should be ready to pay a significant price, though. Dean revealed that offers must be in four figures if in Bitcoin and in seven figures in British pound.
Moreover, he said there could still be possibilities that he would reopen BetKing.io after a year. How the competition would be like by then is one of the things that must be considered, though.