Online threats simply do not stop. Making matters worse are the different schemes these attacks are disguised in. These, however, are often done through phishing emails, and the recent messages received in the inbox proved this so.
For those in Bitcoin gambling, nothing can be sweeter than to receive free balance credited to the account. This is the reason receiving a notice from VitalBet that 0.25 BTC has been added to the account can easily pass as a free giveaway. But the email lacked key details, except for some text and a link to download the invoice.
Meanwhile, partners and subscribers of CoinTelegraph received a similar email type, but the email at hand showed that CoinTelegraph partners were provided with an offer that—as the email puts it—can be personally reviewed and modified. The said offer is attached and is saved as a PDF file.
Implications
Unsuspecting users would have already clicked the links or opened the attachments, especially with complete disregard of the possibilities that these emails could be an attempt to access their computers and collect data without their knowledge.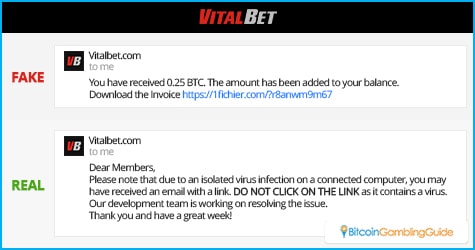 Fortunately for VitalBet members and CoinTelegraph subscribers and partners, the two companies reacted quickly and informed their customers of the dangers that come with the Bitcoin phishing emails that were allegedly sent by them.
This is the part where Bitcoin users must be extra careful of opening messages that have the potential to be an online threat. Being aware of the simple fact that links sent through emails could be rigged, even more so the attached files, will significantly help reduce the number of victims of phishing emails.
Similarly, Bitcoin gambling sites and other companies operating in the Bitcoin markets should also be alert of possible scenarios where their brand will be used to mislead and take advantage of their customers. The fact that VitalBet promptly advised their players that the link contains a virus is highly appreciated. The same goes for CoinTelegraph's advisory regarding the malware in the attached PDF document.
Speculations
This type of incidents, however, can be viewed from a different perspective and therefore can lead to speculations that remain unverified. While it is absolutely impressive to see that there are brands that immediately warn their customers and partners about the phishing emails that use their name, it can also be a form of a marketing strategy.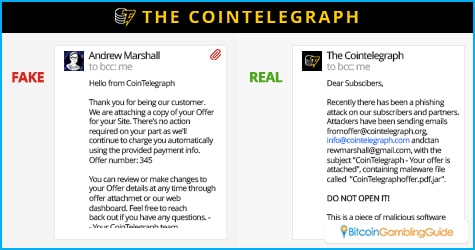 For one, their prompt response and warning can showcase their customer support's efficiency in handling important concerns that can put their customers' balance at risk. Support in the Bitcoin gambling setting and even in other Bitcoin markets is a key component that can either make or break a brand or a company. By showing that the customer support is responsive, alert, and prompt, customers will only be encouraged to trust the brand even more.
On a similar note, this can simply create more buzz for their name. After all, a bad publicity is still publicity. It should be made, clear, though, that viewing the phishing email incidents with this kind of perception is purely speculative.
The main takeaway from the past similar cases is that users should be more cautious before clicking links or opening attachments just because their patronized brand says so. The last thing users need is to have a virus or a malware infect their computers and have their private details exposed to the hackers. As for VitalBet and CoinTelegraph, they deserve the thumbs up for at least responding quickly to avoid further damages.