"Our mission is to build a strong gambling brand which is trusted and supported by the Bitcoin community."
Operations Manager Simon Bishop shared with Bitcoin Gambling Guide his team's plan for BitBet, an innovative Bitcoin sports betting platform launched in December last year.
Hi Simon. Can you tell us the story and inspiration behind BitBet?
BITBET has been inspired by two key developments: the adoption of smart portable devices and the emergence of digital currencies such as Bitcoin.
The advantages of Bitcoin for the gambling industry are obvious, Bitcoin gives the wagering consumer complete flexibility to gamble from any jurisdiction without the standard requirements of providing identification or using credit cards, to gamble anonymously and to deposit and withdraw funds instantly.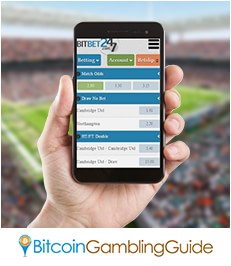 When the advantages of the Bitcoin ecosystem are matched up with consumers who have access to our product anywhere and anytime through responsive website development and smart phone technology you have a compelling offering in the wagering space.
Providing our product exclusively online in an un-regulated environment allows us to operate at a very low cost base which we can leverage into a compelling offering where our odds and our promotions are great value for customers.
The most inspiring thing about working for a start-up Bitcoin wagering operation is the freedom to innovate and do things differently.  I am convinced the best innovations and ideas in the gambling sector over the next decade will be driven by the new breed of wagering entrepreneurs playing in the crypto currency space. We are excited and motivated by the challenge of providing the consumer with the best possible Bitcoin product and look forward to playing our part in the innovative and competitive environment created by the combination of gambling and Bitcoin.
What makes your business one of a kind and a pleasure to run?
It is exciting to be operating a business that is 100% online.  We can access a large and growing Bitcoin gambling market who can come from anywhere in the world and have a broad and diverse interest in a variety of different events and sports.  This raises the challenge of providing an extensive product range around a 24 hour a day, 7 day a week cycle driven by the world wide sports calendar.
We have total control of our customer's experience.  Having this control is the best thing about running BITBET247 as we control our own destiny. The opportunity we have is massive if we can execute our plan effectively; however, the challenges and difficulties are just as large.
I want to zoom in on the challenges. Would you mind sharing some you deal with?
For me the most important challenges revolve around creating the best possible customer experience. To achieve this, the software development team must be fully invested in this goal.  A great example is our menu structure and bet slip operations. We invested so much time and effort into these two areas in an attempt to make navigating markets and placing bets as easy as possible.  It was surprising how difficult it was to make a complicated process work in a simple and intuitive fashion and how many times we thought we had it nailed only to push for more improvements later on. I believe we have achieved outcomes in these areas which are superior to the majority of corporate bookmakers and it is something for which I am very proud.
BitBet247 has been on the market for a couple of months. What are its characteristics that are revolutionary?
The customer experience is very important to us.  As a result we have invested heavily in responsive website design to enable consumers to access our product from anywhere and at any time. We offer exotic multi bet options as well as the traditional multi bet functionality.  We have also created user friendly menus and bet slips for navigating markets and placing bets as well as user friendly interfaces for all other customer functions.  We have pre-set liabilities for each customer, and this enables them to bet within these limits with certainty and transparency.
The software that drives the platform is very efficient which enables us to create, manage and result a large cross section of markets using minimal resources.  We are able to leverage this efficiency into a product offering that is very competitive in terms of odds and market coverage.
We have a unique customer reward system where every bet earns loyalty points.  All customers are treated equally regardless of being new to BITBET247 or an existing customer. Loyalty points are redeemable for FREE BETS at our customer discretion which allows them to be in control of their own rewards.  The use of loyalty points has allowed us to incorporate things like Twitter promotions and sports quizzes for additional loyalty points.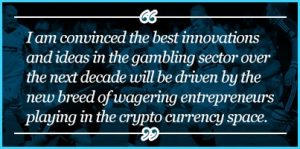 We have incorporated embedded form for Tennis, Golf, AFL, NRL, Super15, NFL, NBA, English Premier League and Australian A-League.  We will be adding more sports in the not too distant future. The embedded form is easy to use and operates with slide downs and slide ups when clicking on the form icons.  We hope the form will be well received by our customers.
There are many more features to the website which we feel are a step forward for customers.   I won't go into the detail now. I would encourage your readers to check out the site.
How secure is your platform?
Security is a priority for us. We use a number of high-tech security measures to protect user information from access by unauthorized persons and to prevent unlawful processing, accidental loss, destruction and damage including encryption, firewalls and a dedicated security team.
We undertake a number of important security measures design to make our Bitcoin wallets extremely secure from hackers, thieves and failure. All bitcoin player deposits are moved into a cold storage wallet that is kept safely offline and away from potential online threats. We also maintain an online hot wallet with enough funds to process player withdrawals instantly.  If our daily hot wallet limit is exceeded we will process all subsequent withdrawals manually.
We are constantly making backups to our Bitcoin wallets, in the event of system failure or malicious attack we will be able to restore all data quickly.  We use encryption of all wallet files to ensure there is no chance of an un-authorized access to our Bitcoin wallets. We also have the Google 2-step authorization for added security.
Aside from reward system, is an affiliate program available?
Yes, we have two affiliate programs, a customer focused program and a corporate focused program. Our corporate affiliates earn a flat 40 percent of gross revenue they generate each calendar month. Every customer who opens an account is automatically provided with an affiliate code.  Customers can earn between 10 and 40 percent of gross revenue they generate each calendar month depending on the number of their active clients who place bets.
Can you tell us a bit about your long-term plans regarding BitBet247?
We can see strong growth in the Bitcoin gambling sector over the next 5 years and we want to establish the BITBET247 brand in this space over this period of time. In the shorter term we are focused on the execution of our plans to ensure we offer a consistent and appealing product to the market.
We also have plans in the short term to add a Bitcoin casino offering and a comprehensive live betting product. Longer term we want to keep innovating and providing a cutting edge product.  We are looking at innovations such as the ability to cash out selected future based bets at any time and providing the lay (Not To Win) price for every option with more than two selections. Incorporating a customer social interaction through a chat system is also something we are looking to release shortly.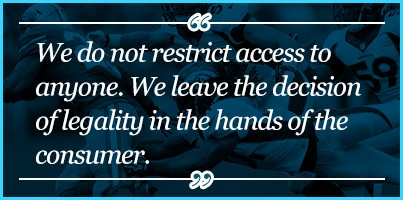 Are you planning on supporting altcoins like Dogecoin or Litecoin in the future?
We are focused on Bitcoin during the early stages of our launch phase simply because it is the largest and most well-known digital currency.   We will definitely be supporting other crypto-currencies in the short to medium term.
I'd like to know more about your views on gambling laws and cryptocurrency regulation.
This is a topic we have spent considerable time researching and debating.  It is no surprise the major demand for Bitcoin gambling comes from jurisdictions which have very restrictive gambling regulations.
On the topic of legality, as Bitcoin is viewed as a commodity and not as a currency it is difficult to see how jurisdictions could enforce the regulations which apply to traditional gambling activities without having added specific laws in reference to Bitcoin. We leave the decision on legality in the hands of the consumer.  If a country has legislated gambling in Bitcoin as prohibited then it is clear the consumer is not allowed to use our services and should refrain from doing so. However, if the consumer decides to use our services we will not restrict their access to our services.
I think the open nature of the Bitcoin eco-system makes it very difficult if not impossible to enforce regulation to the extent that has been historically imposed on the industry.  We do see the dangers in the un-regulated nature of the emerging Bitcoin gambling sector with a considerable number of operators already closing their operations. I think it is a fair to assume the vast majority of consumers who enter the space are fully aware of the dangers involved.
What do you propose is the role consumers should play?
Consumers need to make a judgment call about any potential operator they plan to use. Criteria such as the quality of the software, the quality and quantity of markets provided, the provision of open and transparent betting terms and conditions and rules, speed of market settlements and the responsiveness of customer service are important factors. If an operator does not measure up to a high level of scrutiny then consumers should not use their services. The open nature of the Bitcoin eco-system allows consumers to road test potential gambling operators using their own criteria with minimal funds which enable a level of confidence to be established prior to gambling in more significant levels.
The reputation of BITBET247 is absolutely critical for our success and building this reputation is our main focus in the short term so consumers are able to trust our services and brand.
Finally, for those who don't get Bitcoin, do you have any suggestions? And anything more that you wanted to add about BitBet247?
We are determined to continue the evolution of BITBET247 and make our offering in the Bitcoin space as compelling as possible.  To your readers who are considering using our services we are committed to providing you with an excellent service where your satisfaction is our number one priority. We hope to see you on BITBET247 soon.
Great insights, Simon. Thank you for this opportunity.