With the continual expansion of the Bitcoin gambling industry, Bitcoin bingo is one of its rising gaming departments to offer unique chances of winning bitcoins.
Although relatively new in the niche, it remains on a steadfast boost with the aid of BitBingo.io, also a fresh entrant in the Bitcoin gambling market and one of the pioneering platforms to dedicate its services to Bitcoin bingo gaming.
This Bitcoin-powered platform has effectively introduced bingo to online gamblers through its exclusive and inviting offers, and it has now successfully established its place within the market.
Despite having an interesting catalog of bingo-dedicated features, though, this platform is persistent in further pushing its gambling category to new heights, hence the new Blink game by BitBingo.
Blink game defies typical bingo experience
BitBingo is known to offer more than just the conventional bingo experience and this is further proved by its latest game release called Blink.
Carrying the slogan 'Everybody needs to blink… blink for bitcoins,' the new Blink bingo game strides away from the traditional Bitcoin bingo structure and more into lottery games in order to offer patrons with an easier and more lucrative type of bingo gaming.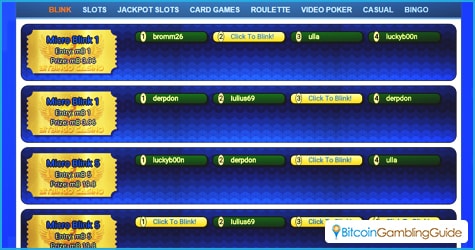 In this game, users are requested to opt any of the available categories or 'Blinks' available instead of the typical bingo numbers. These Blinks hold specific number of in-game tickets depending on their specification.
As such, Micro blink yields the smallest number of tickets with only four available. Mini blink comes second with tickets reaching up to eight pieces. Blink comes next to Mini blink with 16 tickets under its category.
Mega blink follows. This category is second to the highest ticket holder with over 32 tickets available. Finally, This is Sparta is the category that houses the most number of tickets that is equivalent to 300.
Apart from having a unique game structure, the Blink bingo game is also known to be extremely user-friendly.
Unlike the typical bingo, this game variation allows users to purchase more than one ticket per blink. This is a great advantage to bettors since having more than one ticket in a blink heightens their chances of winning.
More prizes and bonuses in a blink
Blink wagers are certainly wallet-friendly. Compared to other bingo games, this BitBingo exclusive only charges a minimum of 1 mBTC and a maximum of 10 mBTC per ticket.
Ultimately, BitBingo's Blink game offers some of the most generous jackpots in bingo gaming. With just 10 mBTC worth of wager, gamblers can win up to 2.91 BTC.
On the other hand, this latest addition also packs an exclusive promotional offer. Called the Blink Bonus, this offer is similar to the conventional cashback bonus where players receive a portion of their total placed bets. In this case, Blink bettors will receive 25 percent of their total wagers from this bonus.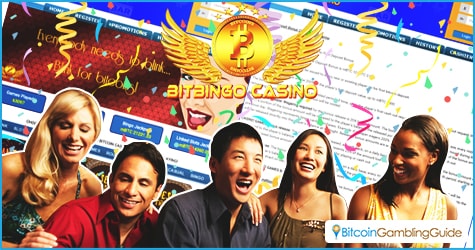 In addition, this bonus covers all the placed bets each day of the week since this is gradually released every midnight. Therefore, bettors who are consistent in placing their bets on the new Blink game will experience the fruits of this generous offer.
BitBingo supports provably fair gaming
Even before the release of the Blink bingo game, BitBingo is already making a buzz in the cryptocurrency market because of its reputable nature.
In fact, this bingo-dedicated platform is the first to offer gamblers with a provably fair bingo game, which assures them that every draw is instilled with utmost honesty and authenticity.
Moreover, through the expertise of SoftSwiss, BitBingo was able to expand its services.
Other than bingo games, this platform now offers industry-famous titles of Bitcoin slots and other table games that are also equipped with the provably fair feature.
With these features out in the open, bettors of all preference can enjoy legitimate and thrilling gambling through the impeccable platforms of BitBingo.