BitCasino.io is one of the prominent names in the Bitcoin gambling arena. Launched in beta in late 2013 and went fully operational only in January 2014, this Bitcoin casino is equipping its platform with the latest features and best solutions to take the lead in this online gambling niche, showing the dedication of BitCasino.io to lead the market.
Tauri Tiitsaar, the Casino Manager of BitCasino.io and the COO of CoinGaming, shared with Bitcoin Gambling Guide his plans for this casino as well as his market insights on the growth of Bitcoin and the gambling market.
How will you describe Bitcasino.io to the community of Bitcoin players?
Bitcasino.io is an online Bitcoin denominated casino.  We strive to provide users with all the key benefits of transacting in Bitcoin which are anonymity and incredibly fast deposits and withdrawals. We offer over 200 slot games now, as well as Live Dealer casino games and Live Lotto and Dice games with some really beautiful dealers as well as a sportsbook with over 10,000 events per month.
We are the pre-eminent Online Bitcoin casino on the market, with our full focus on providing our players with an entertaining, safe, fair & licenced gaming environment.  We offer perfect customer support with round the clock live support agents ready to help.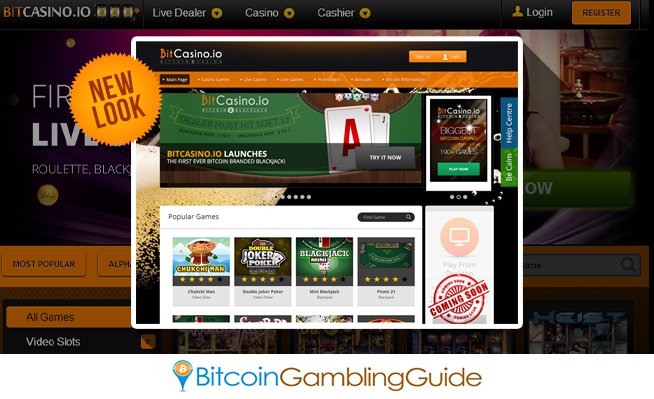 On what software does Bitcasino.io run on? Is it optimized for mobile gaming too?
The Bitcasino.io software is licensed from CoinGaming.io, a full service gaming software provider.  They have been in the fiat gaming industry for the past 10 years and their experienced developers have used the most innovative and new technologies, focusing on top level security, rich features and many gaming possibilities for our users.
We are currently developing a responsive mobile and downloadable program which will be available on all platforms and devices.
If you were to compare your brand from other Bitcoin gambling sites, what qualities would stand out?
There are a lot of differences actually; since we are a very innovative group of people we tend to pride ourselves in being the first with many things on the market. We were the first and still are the only Bitcoin Casino with a Gaming Licence. In addition our Live Casino, Live Dice, Live Chat and On Demand Payments to affiliates were the first of their kind in the bitcoin gambling market.
Our most important differentiating factor is our top notch customer support being available at all times in our Live Chat.  We also provide instant deposits and withdrawals and by having over 200 casino games available, more than any other Bitcoin casino, our players have a huge amount of choice. Most importantly we have over 400 BTC in jackpots available to all of our users.
As an operator, though, what are the challenges you face in this business?
When operating a casino then the challenges are quite similar in all markets. You need to make sure you are ahead of the pack, that your users are happy and you are making the innovations, not following them. The main challenge with Bitcoin is our continual effort to globally educate as many people as possible to the new digital currency revolution. Our goal, mission and responsibility, as one of the biggest brands in the Bitcoin world, is to help increase the global adoption of Bitcoin.
In a few more weeks, this year will come to an end. What can the Bitcoin gambling community expect from BitCasino.io?
Before the year is out we are planning to launch yet again features that are unheard of in the bitcoin gambling market and will make the users experience even more entertaining and easier!  Quite simply, mobile gaming will be a very strong focus of ours in the future!
Speaking of the future, how much do you think cryptocurrency will affect our daily lives?
Bitcoins are already affecting our everyday lives by a huge amount compared to a year ago. There are Bitcoin ATMs, retail shops are accepting bitcoin and you can pay your bills, rent, lease and many other things. I believe in the months and years to come we will see more and more options to pay for the most common products in bitcoins.
What are your comments on the rise of cryptocurrency as a whole?
The rise of cryptocurrency was inevitable, given the transformations we have seen in other industries.  Let's consider the following innovations around peer to peer digital processes and how they are shaping our future: (1) the effect of Skype (peer to peer, free telephony on a world wide scale) on the Telephone Industry; (2) the effect of Email (digital, free communications on a world wide scale) on the Postal Industry; and (3) the effect of Torrents (peer to peer digital sharing of Entertainment on a world wide scale) on Hollywood.
To this end, Banking & Money are finally being updated to the 21st century and Bitcoin is the protocol which is enabling the safe and secure, public and transparant, irreversable and borderless cyptographic means to do this.  The public blockchain allows for proof of balance and transactions, accountability and fairness in a pseudo-anonymous state.  With the ownership of the private keys to their bitcoin wallets, users are now finally 100% in control of their money, without the need to hide it under their bed, if they don't wish to trust a 3rd party with their funds (ie a Bank).
How about the growth of the Bitcoin gambling market?
In regards to the rise of gambling with Bitcoins then this is part of the inevitable.  If something is developed that suits all industries in the world then enterpreneurs will see that, recognize that and follow it. It is an ideal combination for the users and the providers. Users can make instant payments for products or services whilst the providers do not have to suffer from massive payment fees or fraudulent transactions, which allows providers to making the gaming environment much better.
The most important factor, however, is that as the casino stores player's funds on the blockchain, we are able to payout player's winnings instantly, without needing to go through a 3rd party payment processor – which is the most advantageous factor for the player.  Overall it is quite simply a brilliant technology, and we are very proud to be working with it!
I'm sure everyone would want to know your Bitcoin price prediction. Would you mind sharing?
The Bitcoin perceived value is simply a dynamic of market forces, mainly supply and demand.  We believe in the protocol and hence don't really care what the market suggests the price should be; we simply want to focus on making a bigger and better gaming environment for our players!
Indeed. Thank you very much for this opportunity, and all the best for BitCasino.io!