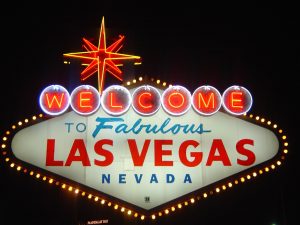 Bitcoin has found its new home in Sin City as the downtown Las Vegas casinos the Golden Gate Hotel & Casino and its sister casino the D Las Vegas Casino Hotel have begun accepting bitcoins. However, this digital currency may not yet be exchanged for casino chips.
The co-owned properties have made a bold move as they opened their front desks and gift shops as well as hotel restaurants to accommodate payments made in bitcoins. To the dismay of some Bitcoin casino enthusiasts, however, both hotels' casino floor will not accept bitcoins for gambling as of now.
Derek Stevens, chief executive of the D and the Golden Gate, said he and his company were wary and uncertain of how the government may act upon the digital currency in the long run and, therefore, seek a clearer insight from the U.S. Treasury, the Department of Justice, and the IRS.
"Once we have more from our government, we might be able to implement bitcoin for casino gaming, but I think we're still a ways away from that," he said.
According to Steven, even the Nevada's Gaming Control Board is unsure of the government's sentiments about the use of Bitcoin in real-world gambling establishments like casinos. This explains the decision to limit the use of Bitcoin in the two Vegas hotels.
As a result, guests can only use their bitcoins to pay for their suites, buy souvenirs, or dine in American Coney Island and Joe Vicari's Andiamo Italian Steakhouse. Tablets will be set up in these four locations to allow purchases through the electronic service BitPay.
With the addition of Bitcoin to the list of payment methods available in these two downtown hotels, Stevens couldn't be any prouder that the D and the Golden Gate were the first casinos to accept this digital curre
"We're located in the growing high-tech sector of downtown Las Vegas, and like all things downtown, we're quickly adaptive to new technology."ncy.
Stevens even credited Tony Hsieh's online retailer Zappos for initiating the change in the area and for becoming instrumental in funding tech start-ups and small businesses.
The Golden Gate is the oldest hotel in Las Vegas having opened in 1906 while the D is a representation of the rebirth of the city's downtown district. While Bitcoin may not yet be used for gambling in these two hotels, the acceptance of the digital currency is a clear indication of what lies ahead.