The global market registers a continuously increasing demand for mobile devices, giving electronic companies more reasons to launch better devices that will compete for the interest and the money of the consumers.  However, in order for them to stay on top of the market, they are required to introduce innovations that will push today's mobile landscape to a better state in the future.
Although not as popular or successful as the mobile sector is today, Bitcoin is slowly inching closer to a wider adoption, bringing new technologies that are geared to benefit users in the long run. This is what inspired two electronic giants to look into Bitcoin technologies.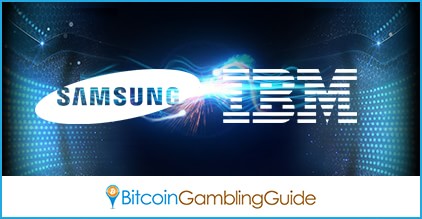 Unique to cryptocurrencies is the concept of blockchain, a public ledger that serves as the transparent logbook of all transactions made within the network. Bitcoin's blockchain technology is the most prominent at present, and Samsung, together with IBM, has its eyes on it.
Steven Rahman, director of strategy at Samsung Research America, was quoted:
"The blockchain technology is very interesting in general, and it can be applied in a lot of areas. Currency, it's just the first use case. You could imagine that anything, like prescriptions, could be managed with the blockchain technology."
Similarly, IBM was reported to have been planning on utilizing the said technology to create a digital payment system for major currencies.
Mobile gambling exemplifies blockchain tech application
As Rahman had said, the blockchain technology applies to a variety of industries and uses, even including mobile use, and one of them is Bitcoin gambling.
Several Bitcoin casinos today have optimized their websites to run seamlessly on smartphones and tablets in order to provide their customers with more ways to have fun and to win bitcoins.
Among the recent casinos that adopt this trend is Bitcasino.io, which now features an extensive collection of games playable on any mobile device. This gambling site features different game providers like Betsoft, GameART, Quickfire, and Play'n'Go to name a few, which can also be experienced by players wherever they go.
Another Bit coin gambling site that optimizes the gambling experience it offers is BetChain Casino. Having acquired Betsoft and Amatic games last month, avid bettors can expect to find these titles on the casino's mobile version.
Apart from the online casinos that feature this technology, mobile apps have also started to highlight Bitcoin blockchain. A prime example for this is the soon-to-be-launched EverdreamSoft's Spell of Genesis game, which is connected to the 2010 hit Moonga. Spell of Genesis becomes the first blockchain-based trading card game on mobile that supports the technology, as well as the Bitcoin 2.0 projects.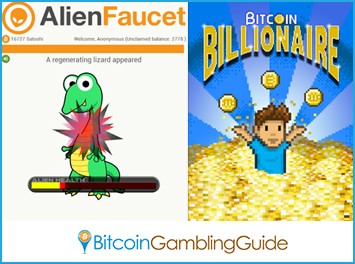 Bitcoin rewards become prevalent in mobile apps
Meanwhile, along with the growth of mobile Bitcoin gambling, more apps find their way to Android users. Anyone who has smartphones and tablets running on the said operating system will have access to the increasing number of Bitcoin-related apps on Google Play.
Noodlecake Studios Inc.'s Bitcoin Billionaire is perhaps the most popular Android app that rewards actual BTC. The game is played by tapping on the screen to rake higher amounts of bitcoins.
Similar to this app and its function is Bitcoin Aliens, which was developed by a team bearing the same name. It functions like a Bitcoin faucet that enables players to receive real BTC after collecting enough satoshis. They can do this when they kill many aliens by continuously tapping on them.