Bitcoin casinos need to embrace change in order to stay relevant to their players. Video games have been doing the same thing for more than three decades. The industry keeps finding new innovations to give players a reason to keep playing their games.
Lately, Bitcoin casinos are taking the same steps as the video game industry. There are a number of Bitcoin casino expectations for players to keep an eye out.
More Live dealer games
Casinos mainly market their live dealer games as a way for players to take home the same experience as stepping foot in a physical casino. Live dealer platforms like Ezugi, XPro Gaming, and Evolution Gaming still offer an authentic experience than a virtual game. The reason why there is going to be a large demand for them is the "live streaming" aspect of the games.
In 2016, many of the largest social media companies have been incorporating a live streaming feature to their application. Even businesses are leaning towards live videos for their video marketing campaign. The reason why Bitcoin casinos like FortuneJack will be seeing a lot of live dealers is the entertainment value of the games.
Many people love the spontaneous nature of live videos. They even love how a dealer interacts with them through the game or from the chat box. 2017 might see more live dealer games as well as different types of them.
Major steps in VR technology
As of this time of writing, VR technology for computers and video game console has a low adoption rate because of its initial price. However, this is likely to change if the industry has more competitors. Google and Facebook's VR headset is looking to release a cheaper alternative to Oculus, Sony and Hive headset. China has been hard at work with creating their own version of a VR headset which can drive down prices.
Many of the big names in the gambling industry are sure to dabble into a VR casino should the adaptability rating increase in 2017 because of the price. Currently, CASEXE is working on a virtual casino. Their previous work in creating a Bitcoin casino might mean sites like BitStarz might have a library of VR games.
Skill-based casino games
There are a lot of casino players today who grew up playing video games. These demographic have grown up playing different kinds of games that require skills. There are certain games that may require luck such as trading card games or ones that have a RNG or random number generator feature in them.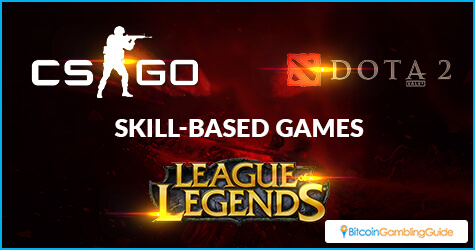 However, most of the experience of the people who grew up in the 80s or 90s is mostly about using their skills to winning a game. Many of them are leaning toward casino games that reward them on skills instead of luck. Bitcoin casinos might target these people by incorporating luck based games in their line-up.
Some of the popular skill-based casino games include Counter Strike 2: Global Offensive, Dota 2, and League of Legends.