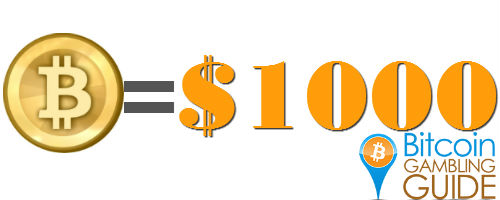 Bitcoin hits a new record when it skyrockets to a new all-time high crossing the $1000 mark. Its price has been steadily increasing over the past few weeks, and last November 28, 2013, Bitcoin has achieved another impossible when it reached the highest trade going as high as $1094 per coin, making it the world's most valued currency.
These past few months, Bitcoin saw a massive rally after crashing to $50 later in April this year. In early October, one Bitcoin was only worth $145 until its price soars up north to $269 just 3 weeks ago and made a groundbreaking surge in just 24 hours when it peaks to over $1000 per coin giving it a total market capitalization above $12.1 billion.
There have been various reasons stated for this bitcoin price fresh high. In fact, the latest driver for this price upsurge has determined to be the giant institutional buyers that have entered the market lately. As noted in Bloomberg News, this brilliant record might be interconnected with the BTC China coming online as this platform just opened another convenient gateway for international users to trade their Bitcoin holdings.
In line with this, Bobby Lee, CEO of BTC China stated that:  raising awareness for bitcoin in China 
On the other hand, positive media coverage has also been avowed to give a great contribution to the rise in interest and therefore, demand for bitcoin. This has been affirmed by a story about a Norwegian guy who purchased $27 worth of bitcoins years ago, and with this most profitable opportunity, he cashed it in giving him the privilege to buy an apartment. With this 'big news', lots of retail investors believed that it is easy making money and growing profits speculating in Bitcoins.
Furthermore, as the bitcoin price surge continues, so too does the governing conversation about the regulation for this virtual currency. In fact, the U.S. Chairman of the Senate Homeland Security and Governmental Affairs Committee Tom Carper has already released a statement emphasizing the "inescapable reality that technology is dynamic and ever-evolving and that government policy needs to adapt accordingly."
The last increase of $266 in April has resulted in a huge crash with the price falling to a low of $50 in just six days. Only after three weeks the price fluctuated and became a little steadier. With this price escalation, there have been concerns that it will follow the previous pattern. Hence, it has been an aim for bitcoins to gain a larger circulation so that the public will be more educated about these digital coins for its price volatility become more secured and steadier in the future.