Casino players can benefit from a Bitcoin debit card. The card allows them to turn their Bitcoin into a usable currency in their area. This is useful for players who want to make use of their casino winnings from Bitcoin gambling immediately.
A Bitcoin debit card acts like a traditional fiat debit card. People can use it to buy goods or services in establishments that accept debit cards. They can also use certain ATM machines to withdraw cash from their Bitcoin debit card.
Bitcoin debit cards draw funds from a user's Bitcoin wallet. Others might require users to top up their card by loading it with Bitcoin from their wallet. When a person uses his card, the Bitcoin turns to USD, EUR, or GBP. The currency depends on the type of card the owner purchased from the company.
How a Bitcoin debit card is used and its advantages
The Bitcoin debit card advantage is in how fast a casino player can receive their bankroll. Bitcoin's benefit comes from not having a middleman that arranges the transaction between one account and another. This allows a player to take out the Bitcoin from a casino in less than an hour or a day.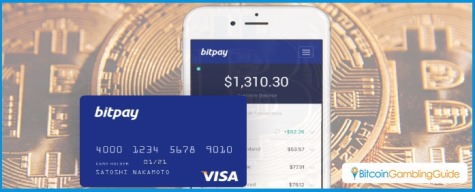 If players want to turn their Bitcoin winnings into a real-world currency they can use, they must use an exchange. The Bitcoin exchange will turn their Bitcoin into fiat currency then deposit the fiat currency to a bank account. This process can take a considerable amount of time.
A Bitcoin debit card, which shares similar characteristics with Bitcoin prepaid cards, further blurs the line between players' winnings and their real world wallet. Players can just send their winnings directly to their debit card. Once they load their debit card, they can use their Bitcoin winnings to make purchases at stores that accept debit cards. Players can also turn their Bitcoin into cash by withdrawing their funds from a compatible ATM.
Bitcoin debit card companies
As of 2017, there are many companies that offer Bitcoin debit cards. Here are some providers of a Bitcoin debit card:
Cryptopay
Cryptopay is primarily a Bitcoin wallet company. Bitcoin debit cards are one of the services they offer. Their debit card is available for EUR, GBP, or USD currencies. Standard delivery of their physical cards is free. Cryptopay card has a low debit card limit than other companies. However, they do not require ID verification. This allows users to receive their debit card anonymously. Getting verified can increase the debit card limits.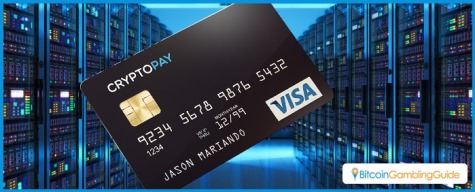 Bitpay
Bitpay, which processes Bitcoin for NetBet, offers a US-based Bitcoin debit card that costs only $9.95. It is more affordable than other Bitcoin debit cards. Card owners can load their card with Bitcoin from different Bitcoin wallet. Shops or ATMs that take Visa cards accept BitPay Bitcoin debit cards.
Shift
Shift cards almost have the same price as BitPay cards, but are slightly pricier at $10. Shift does not have any annual fee. Shift works with shops and ATMs that accepts Visa cards. In fact, users in the US can conveniently use the Shift Card since it was the first of its kind in the country.