Bitcoin users can get free bitcoins from legit Bitcoin faucet sites. These come in the form of satoshi, which is currently the smallest unit of Bitcoin. But this concept has also found its way to other markets, specifically in Bitcoin gambling.
With the vast markets in Bitcoin gambling, the concept of giving away free bitcoins through faucets did not fare well in Bitcoin casinos, sportsbooks, and poker rooms. It, however, proved to be a perfect match with Bitcoin dice betting sites.
Since then, most Bitcoin dice games come with faucets that give away free satoshis. Players can get these free satoshis from Bitcoin dice faucets to roll the dice and hope to catch a few wins.
Bitcoin faucets vs Bitcoin dice faucets
Bitcoin faucet sites essentially give bitcoins to visitors who perform some simple tasks. Even though the site is marketing its giveaway as 'free Bitcoin', this is not actually the case. The site earns money just from the ad revenue it gets from the visitors. The Bitcoin given to a visitor is also in a small amount which is less than 0.00001000 BTC or 1,000 satoshi.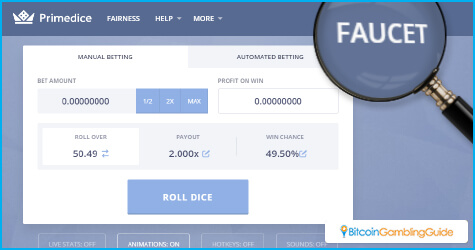 On the other hand, a Bitcoin dice site that has a faucet integrated into the platform is slightly different from a typical faucet site. The Bitcoin given away by some dice sites cannot be withdrawn right away. A visitor will need to wager it until he can get enough to meet the minimum withdrawal limit of the website. This is often difficult since the dice sites also give a small Bitcoin amount that is less than 1,000 satoshi.
Primedice is one of the popular dice faucet sites that give 0.000000150 BTC or 150 satoshi in its faucet feature. To receive this, players simply solve the captcha. Primedice does not have a minimum withdrawal amount. However, it has a withdrawal fee of 0.0003 BTC.  Other dice sites that have a faucet are Bitsler and Pocket Dice, among others. Some dice sites, however, only give free bitcoins based on the player level or on the amount of bankroll in the account.
Unlike a typical faucet site, dice faucets aim for encouraging new players to buy their own Bitcoin and make wagers with it. This strategy is more effective than a demo game that uses fun currencies. Even though a player is betting a small amount of Bitcoin when he plays the game, there is still the notion that he is betting with actual money. The chance of building the small amount a player receives a significant amount is a good incentive to get him to learn how to play the game.
Benefits of Bitcoin dice to the industry
There are some people that are reluctant with buying Bitcoin and wagering it in online casino games. This could be due to the lack of understanding on how the cryptocurrency works or due to the negative impression toward digital coins.
Bitcoin dice faucets can help clear away most misunderstandings on Bitcoin gambling and is also a good tool to introduce new players to the online gambling industry. The site offers a 'try-before-you-buy' feature by giving new players a glimpse of betting with Bitcoin. It helps introduce the popular dice game and provably fair feature that are common in Bitcoin dice sites.