A new set of Bitcoin ATMs joined the roster of technologies that bring the digital currency closer to people. However, this time, the machines are focusing on the lesser tapped market, giving Bitcoin enthusiasts, entrepreneurs, and bettors in Asia a more convenient method of buying and selling Bitcoin.
Beijing-based company BitOcean Technology Development Co, Ltd recently unveiled its second-generation machines. Stepping up from the previous version, the latest BitOcean Bitcoin ATMs take on the form of a two-way kiosk packaged together with features and services that meet public demand in the region.
Multicurrency support is among the features included in the latest machines, enabling users to exchange their local currency for Bitcoin and vice versa. Each machine is installed with a maximum of three cash boxes that can accommodate up to a total of 3,600 bills in any jurisdiction. The Bitcoin ATMs also come with the option of printing out paper wallets as shown in the published video online.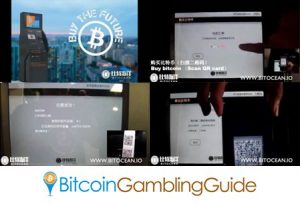 Moreover, the BitOcean machines are paired with know-your-customer (KYC) and anti-money-laundering (AML) facilities that use the technology employed by Jumio.
However, most noticeable is the far improved experience that awaits Bitcoin users.
According to reports, BitOcean founder and CEO Xiaoning Nan highlighted the safety and convenience the new machines offer. The withdrawal period has become faster at 30 seconds, the dashboard boasting multi-function features, and the interface supporting three languages: Chinese, Japanese, and English.
With a structure reminiscent of a typical bank ATMS and of Robocoin machines, the Chinese-developed Bitcoin ATM has been priced by BitOcean for $10,000, sitting comfortably between the Lamassu and Robocoin products.
Once these ATMs are rolled out across Asia, which Xiaoning Nan said to be the brand's primary market, Bitcoin enthusiasts in Bitcoin-friendly countries will be able to enhance their ways of acquiring the digital currency.
While the general Bitcoiners are expected to benefit from the new two-way BitOcean machines, Bitcoin gambling aficionados are also bound to have an easier and faster time of converting their cash to bitcoins for wagering purposes and to exchange their winnings for real money should they wish.
These second-generation Bitcoin ATMs may also spread its presence in Indonesia, where Bitcoin adoption has begun to progress, especially with its aim to transform Bali into a Bitcoin island.
As more Asian nations are open to adopting Bitcoin and the region's online gambling market posting significant potential, having more machines to promote Bitcoin within the continent is already a positive sign for the digital currency.