Bitcoin has become an acknowledged part of the online economy. One of the bigger reasons for this acceptance is online gaming. People love playing games and it was gaming that encouraged a lot of the technical development of computers in the early days. With Bitcoin being an effective means for international transactions, the challenge of monetizing online gaming finds the solution.
Fiat currency transactions are difficult to integrate and can have high fees attached to them. With Bitcoin, which was designed with Internet usage in mind, online gaming would become more accessible. It is not just gambling but also for micro transactions and rewards in more mainstream games. This has led to the development of a solid gaming industry bolstered by the cryptocurrency.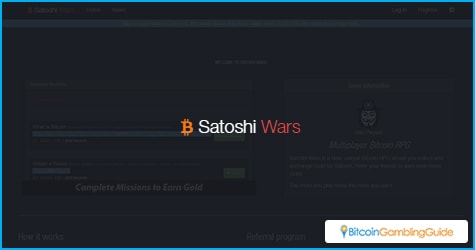 Satoshi Wars and other games
There are several examples of how Bitcoin has been used with mainstream games. For example, Steam recently allowed for Bitcoin to be accepted as a means of payment. Considering the game store's standing as the top online merchant for games, this has raised the cryptocurrency's profile. Other gaming stores had already taken the plunge, but the added support legitimizes Bitcoin's use.
Bitcoin can also be fully integrated into an online game as a reward for performance. Several gaming apps like Sarutobi and others let players earn bitcoins. This essentially gives players encouragement to start playing.
The latest example of this sort of Bitcoin integration is Satoshi Wars. Announced on the Bitcointalk and BitcoinBlackhat forums, this interesting little game was launched just last week. For those who are familiar with the social media RPG Mafia Wars, the game play is very much the same.
Players go out and perform missions, usually those that involve how Bitcoin is used. To complete missions usually takes time and energy, which players can bank. Missions can reward players with Gold, which can be redeemed for actual bitcoins.
eSports and Bitcoin
Bitcoin gaming also benefits from the emerging trend for eSports. A lot of people like to watch eSports and many streaming channels have managed to monetize this trend. A lot of online sportsbooks have also gotten the idea of placing odds on the results of tournaments. The eSports industry itself is slowly evolving into a major player in the online gaming world, with revenue in the millions.
To fully take advantage of the development of the eSports trend, Bitcoin sportsbooks and casinos should turn to software platforms like Leet.gg. The company, which used to be called Leetcoin and allowed for multiplayer matches of the top online games, now presents operators with the complete package on how to enter the eSports field. With their assistance, a gambling operator can start their own tournaments or keep tabs on popular tournaments worldwide.
In addition to this, Leet.gg knows how to keep every part of the market engaged from players to spectators. The company also does data analysis on customer behavior to better improve services.
Bitcoin and gaming has gone beyond the realm of gambling. It will be interesting to see how it develops in the future.