Bitcoin bettors have a plethora of sports on which they can wager ever single week. Boxing events are always one of the more favorable sports betting options, as great odds can be found on virtually every gambling platform. The upcoming fight between IBF World Heavyweight Champion Anthony Joshua against Eric Molina will undoubtedly attract a lot of attention. But can Molina score an upset?
Anthony Joshua defends the title against Eric Molina
Even for Bitcoin gamblers who usually do not wager on boxing matches, the upcoming IBF World Heavyweight title fight is worth keeping an eye on. Reigning champion Anthony Joshua has been unbeaten in 17 fights and virtually destroyed his two previous opponents. It is safe to say Joshua is a force to reckon with, and Eric Molina has his work cut out for him.
It is the second title defense for Joshua, so there should be no such thing as "stage fright". However, his opponent should not be underestimated by any means, as Molina has built a strong career for himself over the past few years. With a lot of expertise at his disposal, he may be in the perfect position to cause an upset during the upcoming fight on Dec. 10.
The stakes for this fight are quite high for Joshua. Not only is it another title defense, but the has his eyes on even bigger prize. If the comes out as the victor, his next fight may very well be against Wladimir Klitschko. Considering Klitschko was the second-longest reigning heavyweight champion of all time, a fight against Joshua would take on main event status rather quickly.
Other boxers will take a special interest in this fight a swell. Many fighters are wondering if there is a weakness in Joshua's game plan, and if so, they will look to exploit it in future fights. With the champ's 17 fights all ending in knockouts, it will be extremely difficult to poke a hole in his strategy for sure. One thing that is rather intriguing is how Joshua stated that he has no intentions of going in for a long fight and prefers the quick stoppage. Doing so will be difficult, though, as Molina is no pushover by any means.
The odds clearly favor the champ
Judging by the Bitcoin sports betting platforms offering odds for this fight, it is evident Joshua will win this fight with relative easy. Then again, statistics are just indicators, and should by no means serve as an indicator for how this fight will go down. All win streaks will eventually come to an end, but it is impossible to tell if Dec. 10 will be the night of Molina.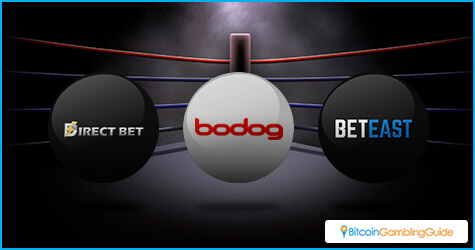 BetEast.eu sees the fight clearly in favor of Anthony Joshua. In fact, putting a wager on him will only earn bettors a minimal profit, as the is rated at 1.01 to win. Molina, on the other hand, receives a 10.90 quote, which is quite appealing to bet on. Experts feel this will be a very tight fight, though, and the odds do not represent that by any means.
Bodog, another popular sports betting platform, sees the fight heading in the same direction. Joshua is the favorite with -10,000 odds, whereas underdog Molina is ranked at +1,600. Quite a large discrepancy between these two world-class fighters, but once again, they are only indicators of how the fight may go.
Finally, the odds presented by DirectBet make things look even worse of Molina. His odds are stacked at 17-to-1, which seems rather high. DirectBet is the only platform to offer a "Draw" option as well, although at 50-to-1 odds. Then again, for the more adventurous Bitcoin bettors, a Molina win—or even a draw—may be worth putting a small wager on.