Euro 2016 is about to start and everyone is joining in the excitement. A lot of people have made a bet or two on the results, but this is just at the normal sportsbooks. Online prediction markets are an alternative.
Prediction markets provide a way for people who normally do not want to bet with a chance to make wagers. Depending on where players make their bets, prediction markets can actually be easier to wager on and more profitable for the players. Here are a few markets that are letting people place Bitcoin bets on Euro 2016.
Betmoose
Betmoose is a popular prediction market among Bitcoin users. This is mostly because of its simple interface and the fact that it allows players to make bets. One of the popular wagers on the UEFA 2016 that can be found on the site is on who will win the entire tournament. As the organizer and one of the strongest teams in the tournament, France is a top favorite. There are others, though. Germany, Spain, and England are the other choices for the bet. Interested bettors should bet now. When betting on Betmoose, the earlier the bet is made, the higher the multiplier is.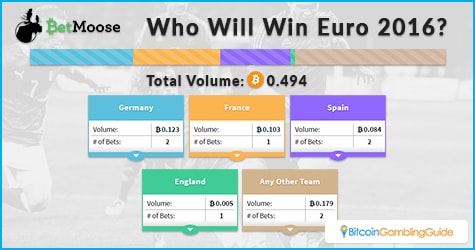 Predictious
Predictious is more generous with its betting options. There is an entry for each team participating. With Predictious, bettors buy shares on an event and get a dividend when it happens. Multiple shares mean a higher profit. Bettors can also sell shares if they have lost confidence in a team. The more people buying shares, the higher its price becomes. Additionally, there are a limited amount of shares. Right now, people are buying shares in Germany, Portugal, England, and France, with no action happening with the other teams. This is an interesting trend and bet watchers will probably see constant movement as Euro 2016 progresses.
Another prediction market with Euro 2016 bets is Bitbet.us. Primarily aimed at US Bitcoin bettors, it offers only a single betting option. It asks whether France will win and to choose a Yes or No option. "Yes" options will nearly double the wager if France wins. "No" options will give a fraction of the bet, if France loses. This is a limited choice, with "Yes" being the more profitable option.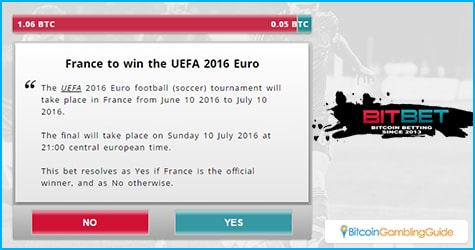 Fairlay
Finally, Fairlay is a prediction market that is very comprehensive in terms of bets. Individual matches are set up starting from the first matches this weekend to the conclusion of the series. The bets here are similar to the ones placed at a sports bettor, so interested people should learn a bit about reading odds in for them to make the most out of their wager. People who are interested in specific bets should also take a look at what Fairlay offers.
Prediction market betting is different from normal sports betting. With all of these options, people who want to get a bit of that Euro 2016 action can place their bitcoins for an easy wager.