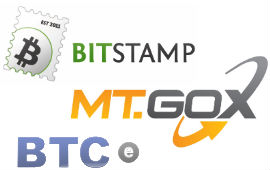 The value of Bitcoin dropped more than 25 percent by Friday after the 3 leading bitcoin exchanges halted withdrawals.
Mt. Gox, which prides itself as the most established Bitcoin exchange for dollar-based trades, said all Bitcoin withdrawals will be temporarily paused in order to address the technical issues that have been plaguing its systems.
"It was determined that the increase in the flow of withdrawal requests has hindered our efforts on a technical level," according to the statement released on its website, adding that putting the system in a static state is the most appropriate solution to thoroughly assess the situation.
However, the exchange did not mention specific dates when its trading sessions will reopen. What it clearly stated, though, is that it will resolve the issue the soonest time possible and that an update will be released on Feb. 10.
Meanwhile, an inquiry into the collapse of the digital currency's value reveals that Mt. Gox' Bitcoin price prior Friday was almost $100 more than the prices on Bitstamp and BTC-e, the two other major Bitcoin exchanges this was until the last decided to halt withdrawal as well as facing a DDOS attack which exploited the same technical issue which affected Mtgox at the time.
These recent developments showed that the troubled exchange's price of Bitcoin peaked at $831 on last Thursday night before plunging down to a low of $658 and regaining momentum to break the $700 marker the following day and at the time of writing back down to $580.
Bitcoin digital wallet and online platform Coinbase, on the other hand, reported a price drop to $701.56 on Friday down from the previous day's $764.35. 
However, the sudden price fall isn't the only problem Mt. Gox customers had to deal with this month. In fact, customers had been encountering withdrawing delays in the said exchange a few days before the block on withdrawals was set.
The problem in withdrawing dollars had resulted in the crucial decision of the customers to either risk their money and get caught in the erratic systems of the foreign-based trading exchange in aim to get dollars or to simply hold on to their bitcoins.
Those who chose the latter won't regret delaying their cashing out because they still have a few options to profit in dollars. In fact, some traders had sold bitcoins for yen to escape Mt. Gox while others are buying bitcoins for dollars on other exchanges before selling them for yen on the troubled exchange.
While the progress on the latest disruptions on its trading operations is still uncertain, Mt. Gox as well as BTC-E and Bitstamp will continue trading as usual.
It is still unclear as to when the exploit in the Bitcoin protocol will be fixed and when withdrawals will be resumed at the major exchanges.