Bitcoin earned a remarkable distinction across the society after introducing a decentralized way of running the economy through virtual currency. This advantage, deemed to be the 'greatest innovation of today's generation,' has been continuously garnering supporters and patrons throughout the globe.
However, as Bitcoin continues to emerge and penetrate more business and private sectors worldwide, disputes and claims regarding the cryptocurrency regulation appear to be rampant leaving both parties wary of what lies ahead for such innovation.
Following the infamous Silk Road trial that involves Bitcoin, the aftermath of this controversy left a grave mark on the cryptocurrency's 'legally compliant' reputation. After countless courtroom trials, officials and regulators bring in more grounds to regulate and monitor the virtual currency to further circumvent illegal dealings.
American Organization focuses on educating people about Bitcoin
In lieu of joining the seemingly endless debates regarding centralizing Bitcoin, the American Bar Association (ABA) turns its efforts on enlightening the masses about cryptocurrencies through organizing an event that will take place on June 26 of this year, with emphasis on the regulatory compliance and enforcement methods toward Bitcoin and other virtual currencies.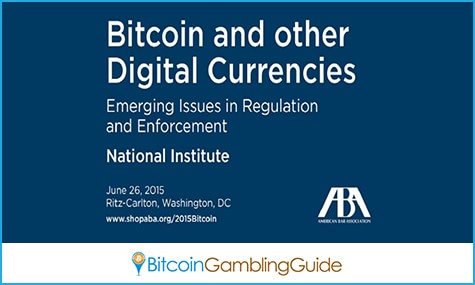 ABA is known to be one of the largest voluntary professional organizations in the world, carrying its commitment to support the legal sector of the community. The organization also focuses on improving and establishing the administration and justice department with model ethical codes.
Topics such as how Bitcoin works, Bitcoin's regulatory framework and legal status, and other regulation concerns will be discussed on the event. Moreover, different Bitcoin experts and pioneers are expected to flock the gathering.
Overall, ABA's event's main concern is to further educate people regarding Bitcoin as well as shed light to certain advantages in the event that Bitcoin is to be centrally regulated under the US state laws. The organization believes that through this affair, responsible Bitcoin usage will be properly observed.
How will the Bitcoin casino market be affected by such drastic change?
Together with Bitcoin's emergence comes the rise of Bitcoin casino and gambling. Similar to Bitcoin's impact, Bitcoin games unquestionably made a great sway in the gambling sector by innovating and adding flair to conventional online gambling.
Moreover, crypto-based betting allows players to keep their identities private – one of the reasons why Bitcoin is such a hit with majority of gamblers. If Bitcoin becomes centrally regulated, possibly stripping off its anonymity, Bitcoin gambling's existing could falter.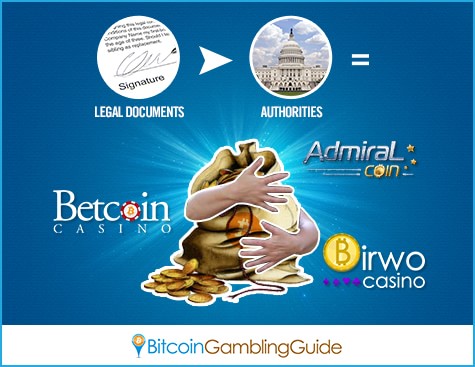 However, after controversial Bitcoin gambling incidents such as Micon's arrest, it is apparent that the main problem could be the lack of legal structure and not the usage of virtual money. That being said, regardless of the regulatory status of cryptocurrencies, crypto-coin bettors are definitely on the safe zone in using Bitcoin as long as they only bet through authorized channels following legalities of their governing country.
Birwo Casino, a Bitcoin-based  casino and gambling site that caters to US gamblers, has done the appropriate legal measures for them to operate under US jurisdiction.
Likewise, American Bitcoin players can also experience secured casino gameplay through Betcoin Casino, and AdmiralCoin that have also done the same legal procedures required by the country. That being said, the safety of the usage of Bitcoin is assured as long as it is under legal venues.
For now, Bitcoin regulation in the US is still under the considerations and debates. The advantages, however, are yet to be realized by the entire Bitcoin community.