UFC is ending 2016 on a high note with the comeback match of former UFC women's bantamweight champion, Ronda Rousey. Rowdy Ronda Rousey will be clashing with the current champion Amanda Nunes for the title. Fans eagerly await the return of their favorite UFC bantamweight champion after a long hiatus.
Ronda Rousey's return
This match is going to be one of the most watched UFC events of the year because of the return of Ronda Rousey to the Octagon. This is because of Rousey's fame when she was still with the UFC last year. She is the Mike Tyson of the UFC because she can quickly end most of her fights in the first round. Her match with Zingano was one of the shortest. Zingano gave in to Rousey's submission in just 14 seconds after the match started.
Rousey's defeat in a title defense match against Holly Holm, however, was a shock to everyone. This includes Rousey herself. Rousey's defeat led to a hiatus that lasted for more than a year.
The coming title match of Ronda Rousey against Amanda Nunes is what Rousey fans have been waiting for ever since the match against Holm. Fans are looking forward to see Rowdy Rousey come back to the UFC in full form.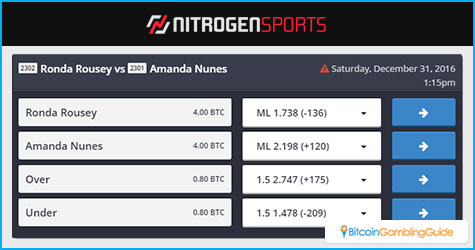 The Lioness, Amanda Nunes
On the other end of the Octagon in the coming match is Amanda Nunes, the current UFC bantamweight champion. Nunes or 'The Lioness' is not a push over. Nunes fought against numerous hard matches before she went up against Tate for the title match.
In an event where the title cards are full of famous UFC fighters, Nunes victory against Tate was the highlight of the night. Nunes became the first female Brazilian Bantamweight champion of UFC after forcing Tate to submit.
The stakes are even higher in the coming title defense match against Ronda Rousey. Nunes has been asking for her first title defense to be with Rousey. After a long wait, Nunes got her wish with the upcoming match against Rousey on Dec. 31.
For the Lioness, she feels Rousey is the underdog since she is just coming back to the Octagon. Nunes believes Rousey's hiatus had softened her edge. With the spotlight more focused on Rousey, Nunes is ready to let loose at the former UFC champion.
UFC match odds
Bitcoin sports betting sites like Nitrogen Sports, Betcoin.ag and BetEast.eu are making Rousey the favored contender in the match. They are banking on the return of Rousey's confidence and strength after a long rest. The current odds are as follows:
Nitrogen Sports

Ronda Rousey (-136), Amanda Nunes (+120)

Betcoin.ag

Ronda Rousey (1.69), Amanda Nunes (2.14)

BetEast

Ronda Rousey (1.69), Amanda Nunes (2.14)
This match is the best way to end the year, which saw monumental matches like the UFC 202 match between McGregor and Diaz back in August.