Bitcoin Gambling Guide proves once more why it is the premier site for everything Bitcoin gambling. With a rich collection of content for various markets in Bitcoin gambling, BitcoinGG continues to provide on-point information helpful to the players and operators.
BitcoinGG remains dedicated to offering excellent services geared toward the improvements in the Bitcoin gambling industry. And by recently appearing on Google's Featured Snippet box, BitcoinGG only shows its authority in presenting accurate and relevant content for everyone to access.
Ranking on Google's featured snippet section
With the constantly changing algorithms and schemes, Google actively filters websites that fail to deliver significant and valuable content. BitcoinGG, armed with the goal of maintaining to be the prime source for Bitcoin gambling, maintains its lead and continues to adapt to ensure that all areas are perfect.
It is this attitude that brings BitcoinGG to the top, despite the tough competition today. Proving this is the recent appearance of BitcoinGG as a Featured Snippet.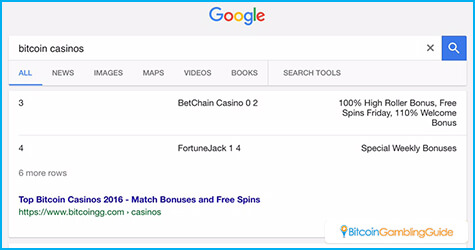 For a website to rank high enough to be included in Google's Featured Snippet section is no easy job. The website must first have rich and accurate content relevant to the search query. It should also meet the requirements that Google looks for to be included in the said section. Most of all, Google must deem the website credible enough.
For the 'Bitcoin casinos' query, BitcoinGG emerged as the most credible, having been presented as a Featured Snippet. The snippet showed the Top Bitcoin Casinos page and featured the top 10 Bitcoin casinos ranked on BitcoinGG.
The top four casinos, namely mBit Casino, BitStarz, BetChain Casino, and FortuneJack, were visible in the snippet, while the six other Bitcoin casinos could still be viewed upon a click. Next to them are the equivalent bonuses, ranging from first deposit bonus to weekly bonus.
Although there were other similar websites on the same page, Google still classified BitcoinGG's Top Bitcoin Casinos page as the most informative.
Holistic website for the Bitcoin gambling community
BitcoinGG started in 2013 as a review site for Bitcoin casinos and other betting sites back when hardly anyone knew about Bitcoin gambling. Since then, it grew to become an authority when it comes to Bitcoin casino reviews.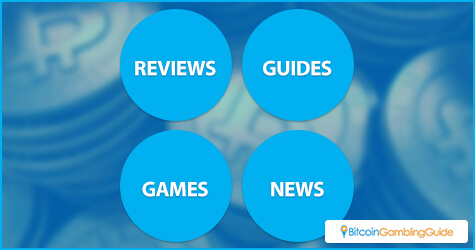 BitcoinGG covers a myriad of brands in the market, making sure to touch on Bitcoin sports betting, eSports, poker, dice, lottery, and more. It even reviews platforms in Bitcoin forex trading and binary options trading. Reviews of Bitcoin games in the market are also available to help players decide which games to play next.
Over the years, BitcoinGG has also strengthened its arsenal with the daily publication of Bitcoin gambling news. The site presents timely news articles that add value, knowledge, and support for this industry. BitcoinGG also strengthened player-friendly services, especially with the addition of BitcoinGG's file-a-complaint system.
Meanwhile, the community has always been receptive and supportive of BitcoinGG. The team could not be any more grateful for the trust given by the players, the operators, and entrepreneurs.