As the Bitcoin industry grows progressively despite some setbacks, BitcoinsInIreland shines in its mission to deliver noteworthy developments on everything Bitcoin. Speaking with its creator Jamie McCormick, we will learn of the experiences and ingenuity that transformed BitcoinInIreland from an idea to a tangible realization.
What led you to be interested in Bitcoin and come to believe that it is something that you would devote much of your time to?
I heard about Bitcoin about two years ago, and began a tiny bit of mining to a wallet I don't have any more. I was also exposed to faucets around this time, too, but never got any meaningful amount. I upgraded my laptop to a high end gaming one, but quickly found out that my nVidia GPU wasn't any use for Bitcoin, but did some Litecoin mining for about six months. That came to an abrupt end when the heat from the GPU running at full pelt transferred through the frame of my laptop's case, froze the hinge, which shattered and the heat also caused a third of my LCD to rainbow. So, €600 repairs later, I decided against mining myself.
I then found a really great guy in the states on eBay who leased me 12ghs for six months early in the year. I started on BTC Guild, and moved to CEX, but got a lot less reward for the same amount of power, and moved back after a little while. I didn't ROI at all, making about 50% back, but would have made about 70% if I'd stuck with BTC Guild for the entire duration.
New hardware was out of my price range, but I found someone locally who was upgrading, and selling his Antminer S1's off relatively cheaply, so I went to him, got a really good explanation on how to do things myself. So I got two, and a PSU, and then got another pair, so I have four in total. I then hacked the firmware to let me have nine concurrent pools going, and apportion the hashing equally. With this, I then began to review the mining pools I was using for newcomers like me. With the earnings I was making from my 650ghs or so, I then began to write about my experiences using Bitcoin, and after securing some clients in the Bitcoin space through my company BitcoinMarketingTeam, I began to review the process of converting Bitcoin into fiat across a couple of Bitcoin exchanges people identified on Reddit.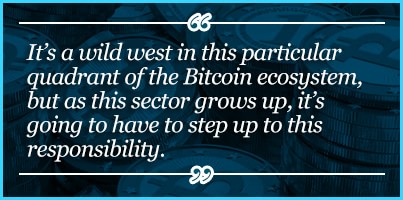 How long did it take you to launch your website?
The site launched back in August with some initial content, but it took me a while to get going, as I had to wait for the mining to let me get to the point where I could cash out, and properly review the entire experience of signing up, connecting, mining, and hitting the threshold to cash out. I've also only so much time I can dedicate to writing, but it's been picking up pace from about October.
What is the best thing about your website?
It's letting me write again, which is how I got started in games, and I'm taking the same approach. There's lots of people covering and relaying the same news stories, but very few people who aren't traders, massive hardware owners, or large scale bitcoin holders. I'm writing for people coming in today – who aren't invested at this scale – who might want to utilize bitcoin for lots of things.
What can you say about gambling laws and cryptocurrency legality and regulation?
The gambling scene is interesting to me, as I'm from Ireland, where gambling is a big part of our culture, and some of the world's biggest gambling companies are either from here, or based here. I'd take the odd flutter myself here and there, but the only notable win I've ever had is a €5 50/1 Maldini goal against Liverpool in the Champions League a few years back.
Other than that, I don't gamble myself, but in Ireland for instance, people are being refused mortgages if they have bets in their transactions. Also in Ireland, winnings from gambling are tax free, as there's a small tax on bets at source, which is going to be extended to Irish players on online sites from the 1st of January. The fact that that Bitcoin gambling is so clearly differentiated through provably fair code is also a plus for players, and a potentially disruptive technology for this entire industry. But I do think that the sector is going to have to be regulated one way or the other, especially in the area of problem gambling.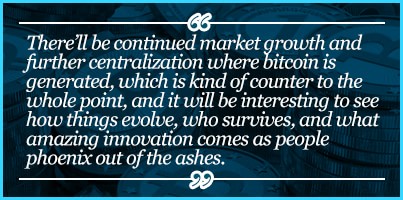 What do you think Bitcoin needs to become a more prominent and reliable form of payment?
It needs to be convertible and as easy to use, if not easier, than cash or cards. In Ireland, we can buy bitcoin at atm's or online, but there's a very onerous verification system to turn it back into cash. This is fair enough, as if it's being used to launder drug money, fund terrorists, or whatever else, nobody wants that. I think we're a couple of years away yet from it being more than a niche in the west, but I think many countries around the world where their own currencies are banjaxed, it can help open them up.
What have been the greatest accomplishments you have had while operating your website, other than spearheading wisdombitcoin? What has been the most surprising challenge?
I don't think I've had any massive accomplishments with the site so far to be honest. I did have one really negative experience, when posting a review of one of the mining pools on Bitcointalk, I got trolled at 3am on the comments on my site with pure venom and hatred which woke up myself and my wife. I've never experienced that in my entire writing career.
But other than that one incident, it's been a really great learning experience, and I am really positive about 2015 and will do my bit to help newcomers understand it a bit better, in my own way.
What characteristics of your website do you consider revolutionary?
I'm not obsessed with the price, or the tech. Bitcointalk is one part of the internet, and most newcomers are very daunted by trying to find information there, with information spread over multiple posts.
I'm putting my bitcoin where my mouth is. I've invested in hardware and electricity, and instead of golluming my coins, I'm reinvesting them in companies doing things that I think are cool. I document the process, risking my own bitcoin, to let people know if it's legit or not.
Do you have a Bitcoin price prediction?
Semi-organized chaos. :)
Finally, for those who don't get Bitcoin, do you have any suggestions? And anything more that you wanted to add?
Start asking questions on reddit or bitcointalk. They're friendly and people have asked lots of questions. Bitcoin ftw! :)