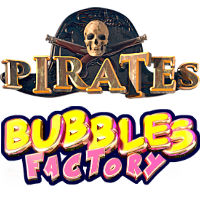 The Bitcoin gaming industry leader Bitoomba has once again proved to the online gambling community its dedication to bring the level of Bitcoin gambling higher with the launch of its two new slot games. Designed to provide online bettors with exceptional betting experience, Bitoomba's latest releases keep this casino ahead of competition in terms of top-quality games in the Bitcoin casino platform.
Bitoomba Casino is determined to hold its position in the Bitcoin gambling industry by releasing two more slot games, bringing the total number of Bitcoin slots in its casino to eight. Besides the widely played and well-received Bitoomba slot machines, namely Lucky Pyramid, Wild Wild West, Dino Gold, Rock N Roll, Emperor, and Kitten Cash, Bitcoin bettors now have more slot games to choose from with the addition of The Pirates and Bubbles Factory.
The Pirates Slots is set to make a buzz because this is the first slot game in Bitoomba Casino that is in high-definition 3D. Boasting of the best quality graphics found in a Bitcoin slot, The Pirates 3D Slots is guaranteed to become one of the most played slot games not only in Bitoomba, but also in the world of Bitcoin gambling. Using the advancements in design and casino software technologies, this 3D slot machine is poised to change the level of betting in this Bitcoin casino.
Watch a preview of The Pirates 3D Slots
Bubbles Factory, on the other hand, is the other Bitcoin slot machine that completes the latest games launched by Bitoomba Casino. Although not designed to be a 3D slot machine, this new addition to the list of slot games has been optimized to provide Bitcoin bettors with a visually appealing betting experience online. Through the use of vibrant colors and attractive graphics, Bubbles Factory Slots is poised to earn its rightful spot as one of the favorites of avid Bitoomba slot bettors.
The two new Bitoomba slots are equipped with fantastic game features, which adhere to the casino's goal of continuously providing players from all over the world with the ultimate Bitcoin gambling. True enough, The Pirates 3D Slots and Bubbles Factory Slots offer exciting gameplay, user-friendly interface, and easy ways to win.
More importantly, Bitoomba Casino's latest releases have been designed using the HTML5 technology. Therefore, Bitcoin slot enthusiasts can conveniently play and win in The Pirates 3D Slots and Bubbles Factory Slots on any mobile browser that supports HTML5, be it on a tablet or a smart phone.