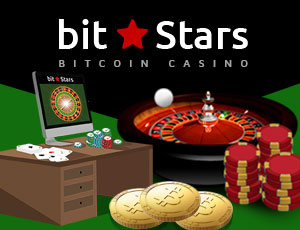 Bitstars launched Wednesday a new Bitcoin casino that adds the essential feature of provably fair gaming in all of its high-quality traditional casino games.
A newcomer in the industry of Bitcoin gambling, Bitstars packaged itself differently from other online casinos powered by the popular digital currency. Instead of simply offering casino games that accept Bitcoin payments, it focuses on providing visually stunning games with fairness that can be verified without any trouble.
"We really tried to make the concept more understandable and easier to prove," said Bitstars Head of Casino Nick on his post in a forum, highlighting the need for average bettors to grasp the concept of provably fair gaming.
In fact, the casino has devised a simple process that can check the reliability of the fairness of its games, which is evident before, during, and after each round of any Bitstars games, including Bitcoin slots.
According to its published explanation of its provably fair gaming process, Bitstars first uses a modern shuffling technique for card games or a random spin for slots and roulette to generate a shuffled deck. Then, in order to create a unique fingerprint, the casino utilizes the SHA-256 Hashing Algorithm to hash the data, which will determine the game and a secret number.
Online bettors also have a special participation in the process by selecting the location to cut the deck for card games and to give an extra push on the ball or reels for the games of luck like roulette and slots. After playing the game, the secret number and data are provided for manual verification of the game's fairness using Bitstars' own widget or any reliable third-party hash calculator.
The simple verification process enables Bitcoin casino players to take advantage of this feature to further ensure a seamless and credible Bitcoin betting experience.
Powered by Softswiss, a Bitcoin casino software provider, Bitstars offers Bitcoin Blackjack, Slots, Roulette, Baccarat, Poker, and many more.