Bitcoin and blockchain startups are trying to disrupt every industry one can possibly think of. The gambling industry is part of these efforts, and bettors will reap the rewards from these upcoming changes. Exciting times are ahead for online gambling, as the industry is prone to disruption in its current state.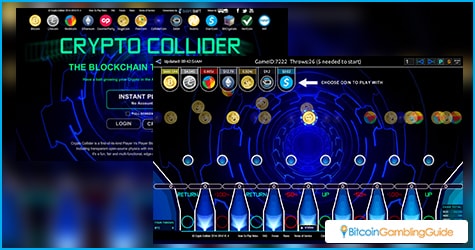 Bringing more transparency and fairness to gambling
The gambling industry can always benefit from additional transparency and fairness. The majority of Bitcoin casinos and gambling platforms are provably fair, allowing players to verify the outcome of every wager. But things can be taken a lot further than just that. Crypto Collider is a prime example of what is possible.
Advertising itself as being a Player vs Player Blockchain Trading Game, Crypto Collider can be quite a powerful platform in the future. Since there is no account required, any barriers to entry are stripped away immediately. This open-source physics game uses client-side verification to provide a cutting-edge crypto-trading experience.
Bringing the peer-to-peer aspect to online gaming is the right way to go. All of the games are played with crypto deposits, which immediately go to show how versatile this technology can be. The game even has built-in tokens which can influence the game outcome. More information can be found on the project's website.
Prediction markets
When it comes to prediction markets, Augur remains an attractive concept to look forward to. Allowing people to bet on any future event of their choosing is putting a whole new spin on cryptocurrency gambling. Using the knowledge of the crowd to create a global forecasting network is quite an intriguing concept for sure.
To put the concept of a prediction market into perspective, their platforms can be used for sports gambling as well. Rather than relying on platforms to offer the sports betting opportunities one prefers, users can set up their predictions themselves. For bettors, this is great news, yet it remains to be seen how online gambling platforms will respond to this new challenge.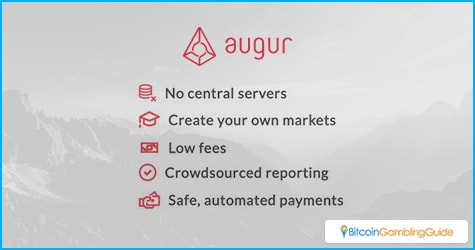 Shaking up RNG with the blockchain
Perhaps one of the more promising developments in the online gambling world comes in the form of ensuring fairness of RNG. To be more precise, casinos can use the blockchain as a source of verifiable randomness. Instead of having the client side produce and record the random numbers for the gaming service provided, the blockchain can be used to achieve the same goal.
Smart contracts could eventually fulfill the role of removing counterparty risk. While the technology still needs to be thoroughly tested, it is an exciting opportunity waiting to be explored. For now, there is no company actively exploring this technology just yet, but that situation may come to change soon.