Breakout Gaming knows how to aim high. Becoming the top online gaming platform, after all, is no easy feat. But with a stable and growing unique cryptocurrency network that was started two years ago, the time has finally come for Breakout Gaming to show off.
Successful crowdsales for Breakout Coin (BRK) and Breakout Stakes emphasize Breakout Gaming's potential. Releasing a new cryptocurrency is just the start, though, as building a dynamic Breakout Gaming infrastructure is the real deal.
With Breakout Coin functioning as the world's first multicurrency and the fuel for this ecosystem, Breakout Gaming is on its way to giving a new definition to online gaming.
BreakoutPVP eSports platform launched
Breakout Gaming further expanded its cyptocurrency-based gaming ecosystem with the launch of its eSports platform called BreakoutPVP.
A website designed for pro-games and gaming enthusiasts, BreakoutPVP provides a new peer-to-peer platform for players to engage in the popular PC video game contests. It currently offers CounterStrike: Global Offensive for the registered players to compete in, while also highlighting different features like a straight up deathmatch and a freeroll tournament.
BreakoutPVP proves to be a promising platform for friends, casual gamers, and professional players to showcase their skills and outplay each other. What makes this different from the rest is that it uses the core of Breakout Gaming. This means every player will benefit from the features and advantages that come with using Breakout Coin.
Moreover, the built-in Breakout Rewards program is a good source of rewards points, which players can exchange for games, special events, tournament event entries, merchandise, and apparel. The Breakout Rewards Points can also be used to redeem real BRK.
BreakoutPVP is the second platform released as part of Breakout Gaming's mission to introduce a new gaming platform that houses a full selection of advanced gaming products online. It also serves as the latest addition to the reasons that make using BRK more attractive beyond trading them over the exchanges.
More platforms set to be released
With BreakoutPVP already unveiled, cryptocurrency users now have another medium where they can use BRK for entertainment other than playing online poker on BreakoutPoker.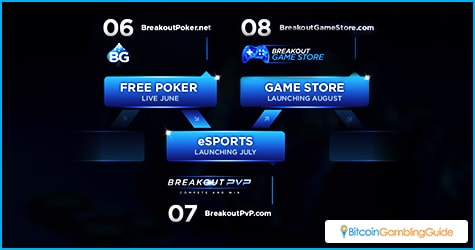 BreakoutPoker, which was released last month, offers a dynamic online poker experience, specifically because it is free to play and available to everyone. Despite not being the main Breakout Poker site, BreakoutPoker offers a taste of what the online poker community can expect once Breakout Gaming fully opens the world of Breakout Poker.
More Breakout Gaming sites are on the way, with each month witnessing a new platform from the Breakout Gaming ecosystem. Next in line is Breakout Game Store, which will be launched in August. It is an online store that would allow players to use their winnings directly in exchange for exciting goods, bonuses, and games. Also in the works are other verticals like casino, lottery, and fantasy games.