The fight of the century finally happened, and it saw Floyd Mayweather emerge as the true pound-for-pound king while the world watched the crowd favorite Manny Pacquiao succumb to the American boxer.
Despite the loud cheers and strong support for the Filipino boxing champ, online bookies still eyed Mayweather to be at the advantage, and the sports betting odds only proved so.
Even the Bitcoin sports betting sites reflected what seemed to be a unanimous prediction that the Michigan native will win the WBO welterweight title and retain the WBA and WBC crowns.
After 12 rounds of boxing action—or the lack thereof—bettors who placed their BTC wagers on Mayweather received their fair share of winnings from the legit online sportsbooks.
Bitcoin bookies pegged Mayweather as the clear winner
Days before the highly anticipated match, Bitcoin sports betting sites released their odds for the Mayweather-Pacquiao bout at the MGM Grand Garden Arena in Las Vegas, Nevada on May 3.
The popular and trusted sportsbooks like Nitrogen Sports and Betcoin Sports set their odds for Pac Man at 2.92 and 2.81, respectively, while favoring Mayweather with odds of 1.47 and 1.46.
Nitrogen Sports posted what could be the highest odds for Pacquiao, but JetWin led the group with its 1.55 odds for Mayweather, giving online bettors more reasons to place their BTC bets on its platform instead.

Other sportsbooks like Cloudbet and CasinoBitco.in both registered odds of 1.47 for the Pretty Boy, clearly putting him as the better fighter of the two.
With several Bitcoin sports betting venues covering the boxing match that was five years in the making, online players were guaranteed to experience more action and thrills while earning chances of getting their hands on the highest payouts possible from a single fight.
Even the BetOnline.ag Bitcoin players, which only recently had the chance to wager BTC, enjoyed this milestone event using the digital currency.
The mentioned online bookies are considered to be the top names in the Bitcoin gambling industry, each providing quality sports betting services and even remarkable Bitcoin casino games.
Defeated Pacquiao immortalizes thrills on exclusive gambling site
The recent match may have been a disappointment for the Pacquiao fans, but its official sportsbook and casino promises to serve as the perfect venue to celebrate the action and excitement in betting with Bitcoin.
VitalBet, powered by Ultraplay, remains to be a worthy contender for the next batch of Bitcoin bookies to take the center stage. It also accepts real-money deposits other than Bitcoin, and it offers other online betting services like dice, live casino, lotto, and eSports.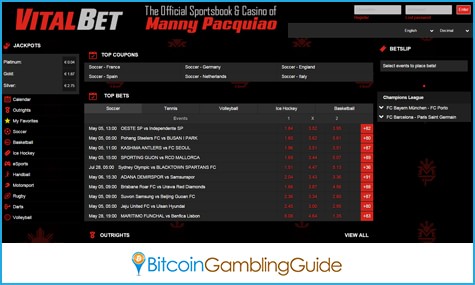 Some of the favorite sporting events included on its list are soccer, basketball, motorsports, and ice hockey.
Meanwhile, a variety of currencies are accepted on this Bitcoin sports betting site, including the more widely used ones like the US dollar, euro, and Britsh pound, but Bitcoin is the sole cryptocurrency acknowledged.