Operators and players should not be the only ones having a blast from the promising growth of Bitcoin gambling. Affiliates should, too.
But it was only in the past few months that the industry noticed the potential for affiliate marketing to boom in Bitcoin gambling. With the steady growth of Bitcoin casinos, dice betting sites, poker rooms, sportsbooks, and more, the need for affiliates to take advantage of the earning potential should be now.
Some casino affiliate programs have already taken action to seize this potential. Betting Partners already shifted to Bitcoin for its commissions while giving its partner brands like Bodog a quality affiliate program. WPN Affiliates now pays Bitcoin commissions, too, as other affiliate programs begin to welcome Bitcoin to their systems.
Is the market still not ready for affiliate marketing?
Despite this recent development, Bitcoin gambling affiliate marketing in still takes the back seat. This is evident in some affiliate programs and platforms not having deep links and decent reports. There is also a significant lack of advanced marketing tools, as well as state-of-the-art tracking system.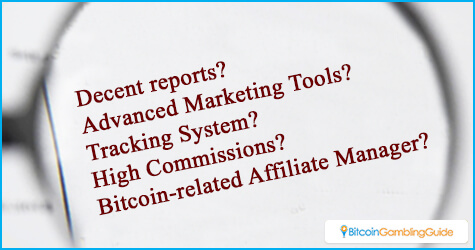 Some operators also force affiliates to have a player account first, which tend to be confusing for some affiliates. Commissions also tend to be less competitive, paired with zero to complicated NGR, CPA, HYB, and CPL.
Meanwhile, the absence of Bitcoin-related affiliate managers to work with and the lack of knowledge and investments in the cryptocurrency markets are major factors that deter the growth of affiliate marketing in Bitcoin gambling.
Affiliate programs that cater services to Bitcoin casinos and sportsbooks, however, tend to overlook other verticals like eSports, lottery, dice, and binary options.
It is these factors that highlight the importance for affiliate programs to step up their game in order to provide services that match the fast growth of Bitcoin gambling.
Market developments signal a more promising future
Today's market, however, does not prove to be a lost cause for affiliates. Some of the top brands already invest in affiliate channels or better technology, manpower, products, and marketing tools. There is also an evident spike in the quality of game content provided by well-known software and game developers in the industry at present.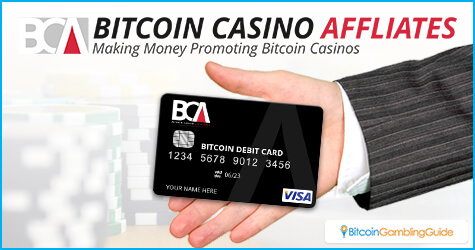 More importantly, Bitcoin casino operators and of other similar betting sites in Asia and other regions are now joining the Bitcoin market. More marketing channels are also improving, and key individuals and managers are now aware of the importance of integrating Bitcoin. They now know the urgency to make the most of this opportunity to be at the forefront of the evolution in online gambling.
With this development, affiliates should be ahead of the competition and secure themselves with reliable affiliate programs. They can check at Bitcoin Casino Affiliates for trusted Bitcoin gambling sites that offer affiliate programs.
More opportunities on the horizon
The Bitcoin gambling markets revolve around the US, Russia, and China, but other countries quickly follow. The over 800 Bitcoin casinos, dice betting sites, sportsbooks, poker room, lottery sites, eSports, and more continue to improve their services. This is the reason more players jump ship to playing games with Bitcoin.
Other than the steady rise of the Bitcoin gambling sector, the benefits of using Bitcoin play a huge factor as well. Irreversible, instant, and transparent transactions are some, while giving players the option to play anonymously also contributes to this cause.
For affiliates to truly maximize this opportunity, more players must learn about Bitcoin and begin to trust it as a cryptocurrency that can also be used outside the gambling niche. At the same time, when Bitcoin users learn about the games, the fun, and the potential to earn, Bitcoin gambling sites can expect more customers who can help affiliates increase their monthly commissions from then on.