The world of gambling is undergoing some significant changes as of late. Even though betting on traditional sports is still very popular, eSports are slowly becoming the emerging trend. Various Bitcoin gambling platforms offer an opportunity to wager on eSports already, and the number of offerings may very well increase over the coming years.
Bitcoin eSports gambling becomes more popular
Contrary to a few years ago, eSports has become a booming business as of late. The competitive online gaming industry has been well received by mainstream media, and several universities are even offering eSports courses as part of their curriculum. Major events are even broadcast on television, or in some cases, on the big screen in movie theatres.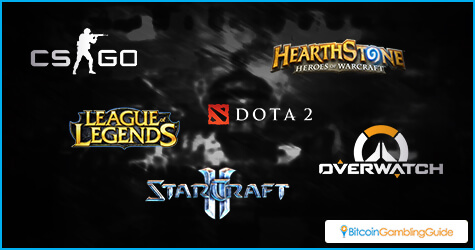 As a result of this sudden growth, there has been an increasing demand to wager on the outcome of eSports as well. Most traditional casinos stay away from such offerings for the time being, as they not see the benefit in offering it just yet. But Bitcoin gambling platforms are a bit bolder in their approach.
In fact, Bitcoin eSports gambling is possible on multiple platforms already. Nitrogen Sports, for example, has several listings available at any given time. Right now, they have a few listings for popular games such as CS:GO, Dota 2, Hearthstone, and Overwatch, to name a few. It is good to see more Bitcoin gambling operators pay attention to the eSports industry, as exciting opportunities await.
A similar strategy has been employed by CloudBet, as they offer virtually the same upcoming events to wager on. SportsBet.io has a slightly smaller offering, although they still focus on the more prominent games in eSports right now. It is a shame neither Overwatch nor Hearthstone are listed right now, but these offerings may improve in the coming months.
By far the most comprehensive offering for Bitcoin eSports gambling can be found on the BetEast.eu website. Not only do they have individual game tournaments listed, but they also create match odds for individual teams. With over 75 possible wagers listed right now, BetEast is the clear market leader for Bitcoin eSports gambling activity.
Millennials and Bitcoin eSports opportunities
One could argue eSports is a new trend primarily driven by the millennial generation. Most competitors in eSports tournaments are between the age of 15 and 25, indicating this is something primarily younger generations enjoy. But that is not necessarily the case, as eSports can be appreciated by anyone, at any age, in any location.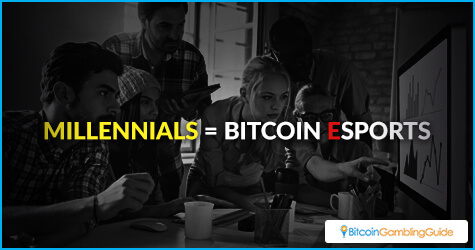 What is worth noting, however, is how Bitcoin eSports support can push millennials to Bitcoin gambling in general. With the year 2017 just around the corner, an influx of millennials would be a significant boon for the Bitcoin gambling industry. eSports may just be the platform to do so. It all depends on if and when other gambling platforms embrace this Bitcoin eSports gambling.