Google's Invisible reCAPTCHA is the latest system that filters out actual visitors from invading bots. This yet-to-be-released reCAPTCHA system will allow human visitors to create an account or visit an iGaming site without any of the usual CAPTCHA processes.
reCAPTCHA keeps evolving throughout the years to make the experience much easier. It has, in fact, become useful for Bitcoin gambling sites when it comes to player account registration or log-in processes. But the engineers at Google have found a way to make use of Machine Learning for its reCAPTCHA system as will be showcased in its latest version.
Invisible reCAPTCHA
Google announced that its latest reCAPTCHA system will do away with picture puzzles and even a checkbox. In fact, a person who will sign up for an account in any online gambling site will not have to do anything to prove he is human. The Invisible reCAPTCHA will still run in the background and enable Bitcoin casinos to filter out real human players from bots.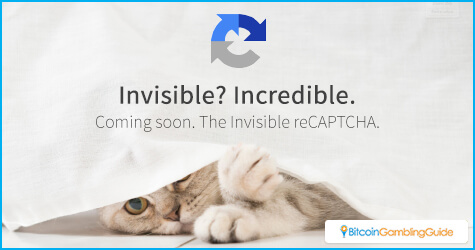 Invisible reCAPTCHA actively works in the background to prevent bots from entering or accessing a website. This system uses a machine learning technology and advanced risk analysis. Google created an algorithm that predicts the behavior of a traffic going into a site. This algorithm learns the natural behaviors of actual visitors and suspicious traffic.
Placing the CAPTCHA system in the background is a great benefit for both casino players and operators. By removing the checkbox in the sign-up form, new players can easily sign up to any Bitcoin casino through a mobile device. Bitcoin faucet users will also benefit from this by allowing a legitimate visitor to get free Bitcoin without having to verify he is human. How the Invisible reCAPTCHA will be advantageous even to the iGaming industry will be reflected in Bitcoin casinos and sportsbooks like 1xBit that use the reCAPTCHA system. It is hoped that the new Invisible reCAPTCHA will strengthen the security of Bitcoin casinos and other gambling sites and will ensure safe Bitcoin gambling.
Evolution of reCAPTCHA
The meaning of CAPTCHA is 'Completely Automated Public Turing test to tell Computers and Humans Apart'. Its intention is to stop spam bots or an algorithm to create multiple accounts on a gambling site. These bots are written computer codes designed to exploit websites' products and services. In the online casino market, these bots can disrupt the games and the offers up for grabs like the welcome bonuses and no deposit deals.
To stop these computer codes, the CAPTCHA system creates a challenge that a normal human can solve. The earliest type of challenge is the use of an obscure word which a person deciphers and types in the answer box.
However, this form of challenge is a problem to visually impaired individuals. It can be hard for them to understand the obscure word that they need to solve.
reCAPTCHA reached a point that allows a user to simply click on a check box to verify that he is human. The system uses an earlier form of machine learning to determine if the traffic is suspicious or not. This reCAPTCHA presents a picture challenge to authenticate a legitimate user from a bot. It also offers an audio CAPTCHA for any visually impaired visitors.