The UEFA Champions League is one of the premier football events taking place every year. The best European teams from all over the continent square off against one another. Half of the teams will be eliminated during the group stages. Every year, there are some surprises, and this year's edition will be no different.
Champions League 2016/17 Week Two outlook
The first week of the new Champion's League season had some interesting results already. Teams such as Manchester United went home without any points. Sparta Praha, a team well-respected among European competitors, lost their opening game to Southampton. Anything is possible in football, that much is certain.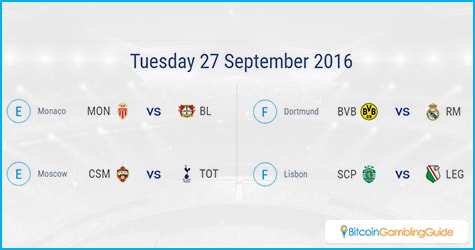 While the second set of games will take in six days from now, the time has come to look ahead to these fixtures. As is always the case, there are some big matches coming up, which will yield intriguing results. Arsenal will take on FC Basel, while Barcelona will play Monchengladbach. The outcome of either game is uncertain, and upsets could be on the horizon.
Odds for both games are painting an interesting picture of what to expect. It seems unlikely Arsenal and Basel will play a draw, but the DirectBet odds of 4-to-one may entice some Bitcoin bettors. While the Gunners are showing great from, the Swiss opponent should not be discounted so easily.
The same can be said for the game between Monchengladbach and Barcelona. In the first game, Barcelona beat Celtic with relative ease. However, Monchengladbach suffered a 4-0 defeat at the hands of Manchester City in the first CL game. The Germans will be looking for revenge, albeit DirectBet feels the odds are not in their favor. An upset would see Bitcoin bettors receive a 620-percent return on their wager, though.
Plenty of potential upsets to wager on
But there are other exciting games to look forward to as well. Borussia Dortmund will take on Real Madrid in what is expected to be one cracker of a game. BetBaller odds are very close for any outcome of this game. Dortmund is rated at 67, whereas Real is rated at 2.63. A draw would result in 3.64 odds right now, which may not be such an illogical outcome of this game.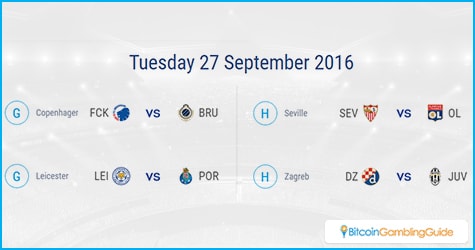 Atletico Madrid, the revelation of the Europa League and Champion's League in recent years, will square off against Bayern Munich. Not an easy game for either team, albeit BetBaller predicts a win for Bayern. The 3.15 odds for Atletico Madrid may seem high, but the team will have their work cut out for them.
There are no boring games on the agenda in the Champions League. Legia Warsaw may cause a major upset over Sporting Lisbon at 15.11 odds. Should Dinamo Zagreb win over Juventus, bettors will see a 1853-percent return on their wager. Albeit it is doubtful Celtic will win over Manchester City, a draw at 515 odds certainly looks appealing.