With the Champions League group stages just behind us, it is time to look forward to the knockout stages. The draw created a lot of exciting matches to look forward to, and Bitcoin bettors will have ample opportunity to wager on the outcomes. The Round of 16 will kick off in February of 2017, and the stakes could not be higher.
Champions League 2016-17 Final 16 stages
All of the top teams managed to get through to the final 16 stages of the Champions League. In fact, there are no real surprises on this list, even though some teams may have performed slightly worse than anticipated. That said, the upcoming schedule looks very appealing, and there are plenty of games to look forward to.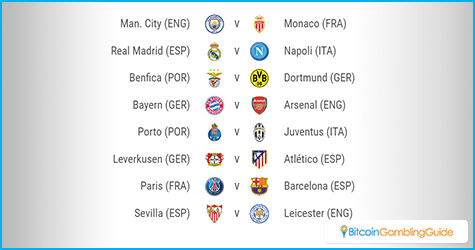 We start off with the fixture between Paris SG and Barcelona. Both teams are dominant in their leagues, but things have a habit of turning out quite differently in the European leagues. Barcelona is the clear fan favorite to win this match, but once should never discount Paris SG either. Although they lost Ibrahimovic to Manchester United, Cavani and consorts are a threat to be reckoned with.
The day after, we have the clash between Real Madrid and Napoli. Dries Mertens is on fire for Napoli, with plenty of goals and nearly as many assists. Cristiano Ronaldo, on the other hand, recently won this fourth Ballon D'or, which will lift this spirits. With the first game taking place in Madrid, things could get very interesting if Napoli managed to score at least once goal.
Another team expected to perform well is Bayern Munich, even though they have the disadvantage of drawing Arsenal. The Gunners are in their best form in years, and they will make life very difficult for the German team. The second leg of this game takes place in London, and rest assured the crowd will be a major factor in trying to drag Arsenal over the line.
Other teams expect to perform well include Manchester City, Atletico Madrid, and Juventus. Dortmund has drawn Benfica, which will not be a walk in the park by any means, even though the Portuguese team is not the team of a decade ago. Sevilla and Leicester City is quite an interesting draw, as a lot is at stake for both teams.
Bitcoin betting odds for the Final 16
It is still a bit early to find odds for all upcoming Champions League games, but CloudBet has most of them listed. According to the platform Juventus, Barcelona, Atletico Madrid, Man City, and Sevilla will win the first game. So far, there are no surprises regarding these Bitcoin sports betting odds, although the first leg of knockout stages can turn out to be big surprises.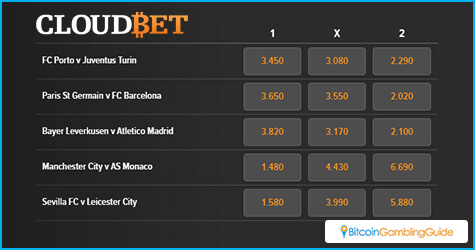 The odds listed on Betcoin Sports follow a similar pattern, although they have ever game listed. Real Madrid, Dortmund, and Bayern Munich are expected to win their games. Odds are stacked against a Napoli win over Real Madrid, as the Italian team is rated at 7.69 right now. That makes them the biggest underdog for the first leg at Betcoin Sports.
Bodog has some great odds listed as well, all of which are well worth checking out by Bitcoin bettors. For some reason, they do not favor Napoli either, and they see a clear victory for Bayern Munich over Arsenal. None of the list games are expected to end in a draw, though, which comes as somewhat of a surprise.