Up to 10 years of imprisonment and $50,000 fines could be next on his list.
Bryan Micon, the famed chairman of the defunct and then largest Bitcoin poker site, was charged Monday in Las Vegas Justice Court with a crime of operating an unlicensed online gambling site.
Attorney General Adam Paul Laxalt announced in a press conference yesterday that a criminal complaint against Micon was already filed, making this Nevada's first case of an illegal online poker site, even more so one that runs on Bitcoin.
He said:
"Operating or otherwise conducting gaming in the state without a license is illegal, and this office will aggressively pursue individuals and companies who seek to circumvent gaming regulations."
The website in question is Seals with Clubs, which arguably was perceived as the most successful Bitcoin poker room online. It was, however, shut down on Feb. 11 this year after the raid of Micon's home in Las Vegas, shortly following the so-called maintenance break of the poker site.
Right after the said incident, he and his family moved to Antigua as part of their planned vacation and decided to extend their stay in the online gambling-friendly island, where he announced and launched a new Bitcoin poker site bearing the name SwCPoker.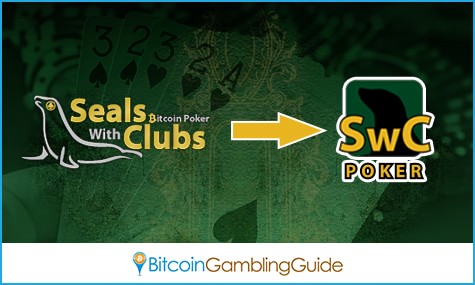 Not 'doing anything unethical'
Micon stressed in his videos and interviews that his running Seals With Clubs should not be seen as anything wrong, as was relayed by his lawyer.
According to defense attorney Richard Schonfeld:
"Bryan has always maintained that he committed no wrongdoing, but I'm not in a position to comment on the Attorney General's filing because I haven't seen it."
Further statements are yet to be received from his lawyer, but it seems that Micon will stand firm on his beliefs.
He recently posted on his official Twitter account a GoFundMe page that seeks donations for his legal battle. Of the $100,000 target, $1,520 have already been raised from 10 people within the first five hours.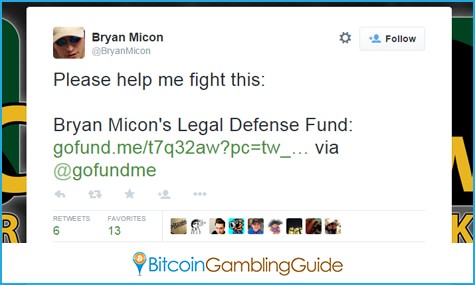 Arrest warrant active across the country
When Bryan Micon returns, he will need to face the charges. However, his current whereabouts are still unknown except for the fact that he moved to the Caribbean island earlier this year.
Although the active arrest warrant proves to be useless beyond the US jurisdiction, Chief Deputy Attorney General Jeff Segal said his office will cooperate with the respective authorities to find and arrest Micon.
Meanwhile, Nevada Gaming Commission Chairman Tony Alamo said in a press statement:
"The Nevada gaming regulatory structure is considered the 'Gold Standard' throughout the world. The Micon prosecution is important because it makes clear that the Nevada Gaming Control Act and its rigorous licensing requirements will be strictly enforced."
On the other hand, with Bryan Micon charged with Class B felony, the online gambling community has varying opinions regarding this development, with some criticizing the Nevada State Gaming Control Board and the Gaming Commission.