An online gambling experience based on a legal land-based casino paired with the revolutionary benefits of Bitcoin gambling is the premium offering Coin178 brings to the iGaming industry.
It hosts a collection of different casino games and betting products that are more than equipped to satisfy every player's hunger for a gambling entertainment topped by excitement and rewards.
Coin178 functions as the gateway for avid bettors to place wagers on casino games played in real time, thereby giving them the opportunity to place bets together with other players physically present in the brick-and-mortar casino.
Players from Asia, as well as from other parts of the world, are welcome to wager on its games. Other than accepting Bitcoin, this online casino also recognizes a selection of currencies, namely USD and EUR, along with the Asian currencies like the Chinese renminbi, Hong Kong dollars, Indonesian rupiah, South Korean won, Malaysian ringgit, Thai baht, and Vietnamese dong.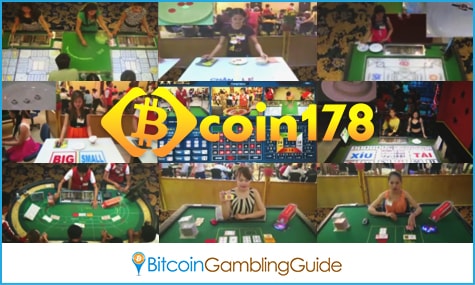 Redefining online betting through live games
Coin178 is unlike any other gambling site. Instead of hosting computer-generated games developed by renowned online casino software and game providers, this Bitcoin casino features a set of the popular classics like roulette and baccarat, together with the region-specific games of Xoc Dai, Balangkai, and Fantan to name a few, that are projected over the Internet through live feeds straight from the partner casino.
Other than the casino games, a wide range of sports are also available for wagers through its online sportsbook. Fans of the global favorites like football, basketball, tennis, and rugby will find their much-awaited local and international matches open for various kinds of bets.
Live Bitcoin sports betting is also supported, giving its players more options to maximize gambling entertainment and winning opportunities.
Joining the array of betting products are the in-demand keno and lottery, as well as the famed games of slots. Lottery enthusiasts can choose from four variations—Lucky Lottery, HK Lottery, Keno, and iLotto—and pick the one that best meets their preferences.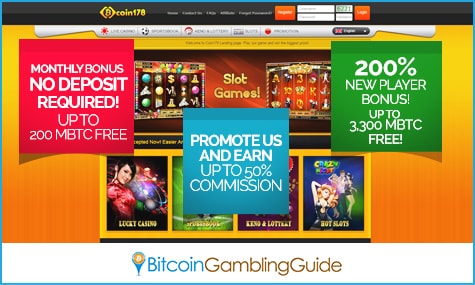 Bitcoin gambling highlighted by player incentives
A one-stop shop for the community of Asian online gamblers, Coin178 effectively rewards its members with the attractive bonuses and promotions rolled out for everyone to enjoy.
Bitcoin casino bonus deals are in store for all registered players, and newly signed bettors are welcomed with the 200-percent bonus, which can boost their bankroll by up to 3,300 mBTC. On top of this, players even have the privilege to receive a monthly bonus of as much as 200 mBTC, provided that they meet the required betting amount the previous month.
Moreover, Coin178 extends its generosity to Bitcoin bettors who will promote its website. Affiliates can earn a total of 50-percent commission while enjoying the unique online gambling experience presented in the casino.
Coin178 caters to Asian markets and plays a key role in promoting Bitcoin through online gambling. Combining the incentives and entertainment at hand, it successfully creates a new domain for avid bettors to relive the winning moments made even better by Bitcoin.