The European Championship Round of 16 has begun and some of the first matches are over. Poland, Portugal, Wales, Belgium, Germany and France have already passed the test and are confirmed for quarterfinal matches. This means that the critical stages of the UEFA matches are about to begin as the top teams are winnowed down to the final team that will be vying for the cup.
With the rising tide of excitement, CoinGaming.io is getting into the spirit of things. To celebrate the approaching finals, the gaming platform developer has lined up promotional bonuses for its two main gambling sites: BitCasino.io and Sportsbet.io
Kickoff Promo from BitCasino.io
For BitCasino.io, the promotional campaign is called the Kickoff Promo. This promo seeks to deliver a once-in-a-lifetime football experience for the lucky player. That is not all. Up to 599 other players would be able to get their own prizes. Players will need to play the Football: Champions Cup slot and spin the reels 20 times for real money. This will give players a ticket to the draw for every 20 spins. The draw will be done on July 11 and the prizes will be awarded as quickly as possible.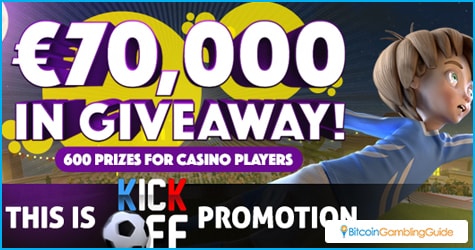 The 1st place in the raffle will get a European football experience of a lifetime, with special operators contacting them immediately for travel details. The 2nd to 10th places will get signed memorabilia from a football celebrity. The 11th to 20th place winners will get a Surround Sound Gaming Chair that has a game console and several games. Meanwhile, the 21st to 50th place winners will get a GoPro. For everyone else, it will be a cash prize ranging from €50 to €10.
SportsBet.io's successful promos
The Kickoff Promo is just the tip of the iceberg. SportsBet.io has run a successful range of promotions through the first half of the Euro 2016. One lucky bettor won two tickets to the European Championship final. This will take place in Paris and the lucky fellow will get an all-expense paid trip. Another four customers were also rewarded with a pair of tickets to the semi-finals of the tournament. These promos just whet people's appetites for the main event and the wagering.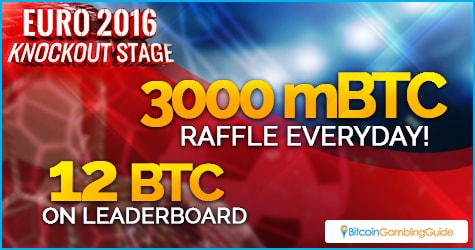 SportsBet.io is a beneficiary of all that excitement. Analysis of betting data collected over the past few weeks has seen betting stakes increase by 20 percent as the tournament progressed. Right now a lot of sports bettors are putting their money on France. Over 37 percent of the bets being placed are on the chance of the country winning. The next in line is England at 23 percent and Portugal gets 17 percent chance to win the entire tournament.
All of the enthusiasm for soccer will not end at the end of the tourney. SportsBet.io is already drawing up plans for future promotions on the line.