The UEFA European Championship in France has just started and the fans are out in force already. With 24 of the best teams in Europe, this year's tournament will be a sight to see. Watching these matches live will be a treat for any fan. The trouble is that it can be difficult to find tickets. Since this event only comes around every four years, people have been buying tickets quickly.
For those who want to watch the games at the stadium, then CoinGaming.io is giving people that chance. Right now, the gaming operator is offering people a chance to win tickets to the finals and semi-finals by playing at either of its two online Bitcoin betting sites: BitCasino.io and SportsBet.io.
Tickets and bonuses up for grabs
CoinGaming.io put up these promos a couple of weeks before the launch of Euro 2016, giving people enough time to become part of the ticket giveaways. The promotional campaign is spread across two sites, so it can be confusing for some people. Here is a simple explanation for how it works.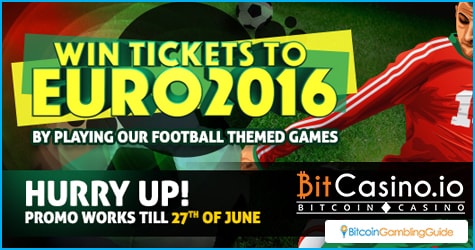 BitCasino.io offers players a chance to win two tickets to the Euro 2016 finals. This is done by playing two slot games: Shoot! and Football Star. For every €50 wagered in these slot games, players get a raffle ticket. On June 28, the tickets, along with €500 worth of travel expenses and two-night accommodation, will be raffled off.
SportsBet.io is offering a similar promo. This time it is for semi-final tickets and the site is offering around eight tickets to the top four winners, each getting two. To win them, bettors need to place sports bets on the site. For each bet of theirs that wins, they earn points equal to the amount they bet. The points will be tallied at the end of the group stage, with the top four winners getting the tickets, while the fifth to the twentieth winner get bitcoins as prizes.
SportsBet.io does not stop there. The site is also offering a daily raffle. All people need to do is to make a bet on any Euro 2016 match and they get a daily raffle ticket. Winners will be automatically credited with an amount ranging from 3,000 mBTC to 5,000 mBTC, depending on the day.
More fun with the CoinGaming Euro 2016 promos
These prizes are just adding spice to the games. Playing the Shoot! slot or the Football Star slot is not a problem for anyone. They are both well-designed games, with both being designed by Microgaming, one of the world leaders when it comes to online gaming.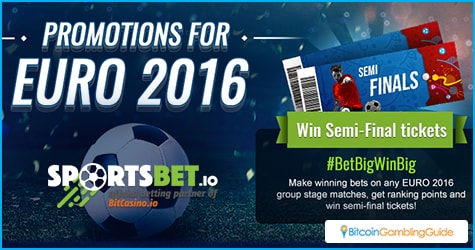 The great graphics and excellent gameplay these two display ensure that it will not be a problem. SportsBet.io is also equally well-made. Placing wagers on the UEFA event will be a breeze with the site's great interface and comprehensive design.
Even if a bettor does not win the tickets or the raffle prizes, playing at these two sites will not be a waste of their time.