The Mt. Gox controversy, the series of scams and hacking incidents, and even the longer transaction periods are some of the primary factors that contribute to the decreasing popularity of Bitcoin exchanges, placing their reputation—function, even—on the edge as commercial startups emerge on the market.
CoinMama may have been in the business for a few years already, but this market player actively contributes to the improvements realized in the process of buying the digital currency sans the complicated stock trading-like steps.
Supporting a variety of payment options, it becomes one of the alternative choices for bitcoiners to use, and the Bitcoin casino players have no plans of missing the party.
How CoinMama enhances Bitcoin gambling
CoinMama stays true to its tagline 'Buying digital currency hassle free' since it accepts payments done via credits cards, debit cards, cash, and even e-Wallets.
While one can argue that existing Bitcoin exchanges also support these payment methods, this website processes the buy orders at a much faster rate. In fact, the purchased BTC amounts only need to clear the necessary number of network confirmations before they are automatically credited to the user's registered wallet address as compared to the online exchanges' processing period that reaches up to several business days.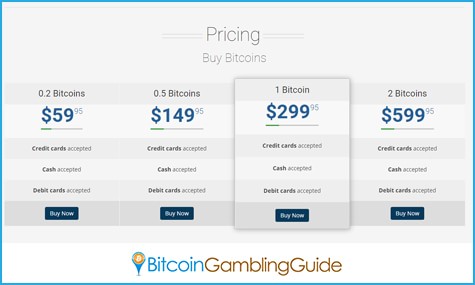 With quick and problem-free ways of buying BTC, CoinMama benefits the players and empower them to start playing the wide range of Bitcoin casino games, to bet on sports, or to enjoy online games running on the digital currency in no time.
Moreover, players who buy BTC on CoinMama are guaranteed to grab hold of their desired amount of bankroll within a short time—a few minutes depending on the BTC amount—and begin catching as many winning payouts as possible.
On top of the lightning-fast purchases, no personal information or financial details will ever be stored in its system, unlike in a Bitcoin exchange where anonymity is but a thing of the past.
More similar but flexible services on the market
Despite the user-friendly service it offers, CoinMama still has some room to improve on, specifically in adding more features like catering to more cryptocurrencies as well as providing users with the option to sell BTC.
Cubits, a new Bitcoin services provider, has successfully integrated its system into the expanding market of Bitcoin casinos. After partnering with SoftSwiss, it now enables players to deposit and to withdraw funds using its platform. This succeeds in providing users with convenience since they can both use Cubits to buy BTC using any of the supported 17 currencies and to exchange their BTC for fiat money.
Full integration of improved deposit methods with Bitcoin casinos
In order for CoinMama to expand its market and tap the Bitcoin gambling industry, however, it may consider partnering with select Bitcoin casinos. After all, some of online betting sites appear to be in favor of revolutionizing their payment systems.
FortuneJack is a perfect example. Initially accepting deposits through the cryptocurrencies accepted on its site, it now supports direct deposits via payment services like Payeer, OKPay, and Interkassa. Through these, its customers can deposit in US dollar, Russian ruble, euro, and Ukranian hryvnia and have their funds automatically converted to Bitcoin.
Following the footsteps of the mentioned online payment gateways, CoinMama can further boost its function in the business and continue to provide Bitcoin casino players across the world with easier and friendlier methods lacking in Bitcoin exchanges.