Last Sunday, Crypto-games.net celebrated its two years of operation. Originally started on Aug. 21 2014, operators Kewl and Joter85 opened Crypto-Games.net to the cryptocurrency public.
Using the skeleton of DogecoinMachine.net, the two managed to make it operate with Bitcoin and Litecoin in addition to the original Dogecoin. The base was also originally featured only as a slot game, but the original operators were planning to add more and they did so. Nowadays, Crypto-Games.net has five games to offer: slots, dice, lotto, blackjack, and roulette.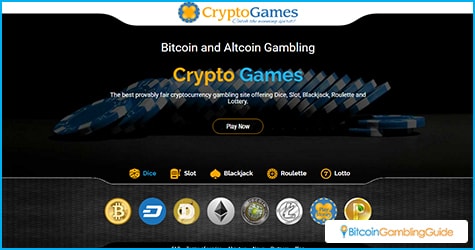 Over Crypto-Games' two years of operation, the site has definitely grown. It has some impressive statistics. Over 16,000 BTC have been wagered on the site, alongside 2,000,116,022.91 DOGE, 13,892,065.90 GRC, 59,667.83 LTC, and even 135,874.83 ETH. This is just proof that Crypto-Games.net is a site that people keep coming back to.
Special anniversary features
In celebration of its achievement, Crypto-Games' operators decided to take out all the stops. First of all, the dice game was running at zero-percent house ddge for a few hours on its anniversary. Most of the time, dice games would give the operator the advantage. This is to ensure that the house will not go bankrupt. The house edge gives players a lower chance of winning, but without it the house and the players are on an even playing field. This ensures that players have a better chance of hitting the jackpot.
Besides the removed house edge, the site is also giving away bitcoins. Players can earn a total of 0.1 BTC given away in chat via the Rainbot system, while a lottery ticket giveaway was held for lucky chatters. Finally, there was a huge giveaway on the Bitcointalk thread. Depending on what level of member they are on the Bitcointalk forum, players could get 0.00025 BTC to 0.01 BTC. Everyone who participated last Sunday had a great time.
Join the Crypto-Games.net bandwagon
For those who missed the celebration, there is still time to enjoy it. Players can still receive free bitcoins if they are at least a Jr. Member on the Bitcointalk forum, and if their Crypto-Games account is at least 10 days old or they have wagered more than 2 BTC.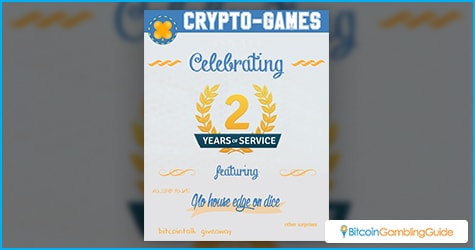 Besides the promotion, Crypto-Games.net is also a great website most of the time. There are several features that should be tempting to a lot of players. First, there is the cryptocurrency faucet. Free coins can be acquired if a player's balance is empty and once in every three minutes. The amount of coins you receive depends on a player's faucet level, with higher rewards for higher levels. Second, players can use the advanced auto betting system which allows bets automatically. With this feature, different bet strategies can be implemented easily. Finally, Chat and RainBot allow for player interaction. This two-in-one feature can be very rewarding as it makes gambling more fun and relaxing
Crypto-games.net has done a lot in its two years in the Bitcoin gambling sector. The way it looks now, it will exist for more years to come.