While New York voting in support of daily fantasy sports (DFS) was big news this week, there was another event that was just as important to DFS as the New York vote.
Pennsylvania has already deliberated on DFS last week and the House Gaming Oversight Committee has unanimously voted to give the State Gaming Board authority over daily fantasy sports operators via the Fantasy Sports Consumer Protection Act. This will allow out-of-state operators like FanDuel and DrafKings to operate in Pennsylvania, while also allowing state casinos to offer their own versions.
DFS development
The bill that allows for fantasy sports is not final yet, though, and it will take some time. It will still need to pass the State House and Senate, which means that more discussions will take place on how to ensure that consumers are protected and that the state benefits from the DFS operations.
Even after the bill is signed into law, there will be a 180-day period when the board will have to develop rules and regulations for how DFS operators in the state will operate.
The Fantasy Sports Consumer Protection Act has been pushed forward mainly because of Pennsylvania's need for revenue. The state currently faces a $1.5 billion budget and it needs money to pay for it. Money generated by taxing DFS will not exactly help much considering the size of the deficit, but the first year's $1 to $2 million can provide a bit of assistance, while opening up larger revenue in the future.
As the bill is written right now, the licenses for DFS in Pennsylvania will cost $50,000 or 7.5 percent of the prior year's adjusted revenue—whichever is less. They can be renewed every five years at $5,000. Companies would also be required to remit a quarterly 5 percent tax on adjusted revenue. Tax forms will also be sent to winners so that they can be taxed.
Online gambling potential
The Fantasy Sports Consumer Protection Act is just one part of the legislation that is passing through the Pennsylvania state legislature. Other bills that are pending concern online gambling and an overhaul of the state's gambling laws. Some of the other facets of gambling that are being considered involve allowing online poker back into the state while also expanding slot machine presence in various places across the state.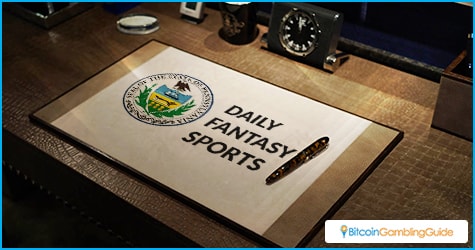 Many experts say that 2016 would be Pennsylvania's prime time to authorize further gambling reform, considering the state's need for revenue and the support it is receiving in the State legislature. With Representative John Payne retiring this year, however, online gambling legalization may lose one of its biggest supporters and lose its momentum. Nevertheless, the prognosis seems optimistic for further gambling reform in the state with DFS being authorized.
With the potential for Pennsylvania to become open to online gambling, this may spark the rise of Bitcoin gambling in the state.