Dice games have been a popular part of the Bitcoin gaming world ever since SatoshiDice hit it big, and they remain the ideal vehicle for Bitcoin gambling.
First of all, they are simple to set up. All that a potential operator needs is a way to randomize the numbers and to track the bets. There are more than a hundred ways to implement this. Secondly, Bitcoin dice is easy to play. It may not be a slot game where a player just needs to spin the reels, but choosing a number and placing bets are easy enough for beginning gamblers. Despite the simplicity, the game can be still exciting for even experienced gamblers.
The easy set-up and popularity have resulted in the dice sites popping up like mushrooms after a rainy night. It can be difficult to make selection from the many choices out there. To help out a little, here are a few good dice sites to check out.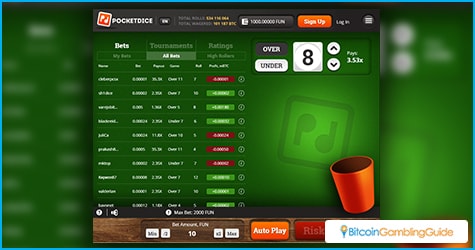 Primedice is one of the best choices out there for dice gaming. Sleekly designed, players can get into the dice action in just a matter of seconds. The simple blue-gray design makes the interface easy on the eyes and can be modified, depending on the player's choice. Players will be automatically assigned an account when they log in and they can start wagering. It loads quickly, too, though there are times when it does not load properly. If there are any problems, players have the live chat to contact the site's admins and an email address as a backup. The site accepts Bitcoin only for transactions.
Pocketdice
Pocketdice is another excellent dice site. With its gambling tale design, it would be easy to fall under its spell. Players can choose to either bet that a dice roll will be over or under their selected number. The site displays the potential return on the bet. Players can then click on the dice cup to have two dice rolled. Bitcoin is the only accepted currency, but people will still need to make an account unlike other dice sites. The site has live chat support and even has a streaming chatroom players can participate in.
Rollin.io
Rollin.io is appropriately named because of its focus on dice play. Players can start playing the moment they arrive at the site, with accounts made for them. The mechanics are pretty simple: players choose whether the random number generator comes up with a result below 50 or above 50. A right guess doubles a bet. The site is more modern in design and has the number displayed in a digital display on the main site. For any problems, an email address is given for the support team. The site only accepts Bitcoin currently.
Crypto-Games.net
Beyond normal dice sites are the small gambling sites that offer only a few games—Crypto-Games.net. Offering dice, slot, blackjack, roulette, and lotto, this site has enough to catch anyone's interest. It loads fast and is well-designed, while accepting multiple cryptocurrencies like Dogecoin, Litecoin, Ethereum, and Bitcoin. Its dice game has the same mechanics as Rollin.io's and is very easy to play. Players are assigned a personal address when they first visit, though an account can be formally made to make continued play easier. It has a Zen desk site for support purposes along with an email address.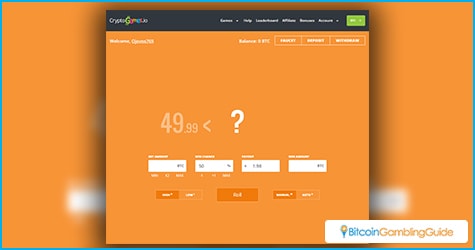 CryptoGames.io
Another site with multiple games, CryptoGames.io is a bit more polished and colorful. The site loads fast and has an automatic tutorial for all the games on the site, which includes its basic dice game, slots, Minesweeper, and the Wheel of Fortune. Accepting Bitcoin, Litecoin, and Dogecoin, CryptoGames.io is a fun little game site where players do not even need to register to play. Players encountering any problems only need to email the admins for support.
---
All of these game sites are easily accessible and great to play at. Players interested in dice gambling should try them out now.