Deposit, make a bet, and roll the dice. This is how simple playing in a cryptocurrency dice site is. Following this trend is DiceCoin, which was launched in the Bitcoin gambling scene with the promise to make anyone a winner in a transparent and fair environment.
Andrew Michman, CEO at DiceCoin, shared how he and his team intend to keep with the demand and competition, bringing more features and excitement to the Bitcoin dice enthusiasts in the market.
Hi Andrew! Can you tell me more about DiceCoin and the software it runs on?
DiceCoin as a project was launched on 31 December 2013, right on the New Year night. The first user was registered the same date, and closer to the middle of the month gaming activity rose dramatically.
It was developed by two Bitcoin-encouraged developers, one of whom is a programmer, the other made the design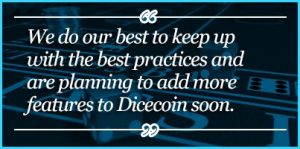 . DiceCoin casino started as a hobby project at first, but then these two specialists improved the service and still continue working on it.
What do you think sets DiceCoin apart from the other Bitcoin dice and gambling sites?
All cryptocurrency casinos are similar and work according to the same principle. When the DiceCoin was created there were not so many Bitcoin gambling services as there are now. We do our best to keep up with the best practices and are planning to add more features to Dicecoin soon.
Add more features. Would you mind sharing these plans?
There are several major ideas which we are planning to release till the end of 2014. Most of them are the following: start mobile Dicecoin version in beta; spread the referral program; and diversify the gaming experience by adding more features. At the moment Dicecoin is only available as a website. You cannot download it or use via mobile. This is what we are working on right now—to enlarge Dicecoin accessibility.
DiceCoin has been in the business for almost a year, what are the challenges you continue to face?
Hackers and other cyber criminals pay much attention to Bitcoin projects and the most to casinos, that's why security question is our biggest challenge we are facing every day. It's quite difficult to make a Bitcoin casino reliable and at the same time provide the possibility for the users to play right after depositing of Bitcoins. But we are doing our best to achieve this!
What is your position in the rise of Bitcoin casino and gambling sites?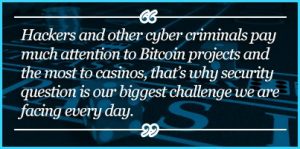 We consider Bitcoin casino to be a great idea. It makes Bitcoin usage more popular and allows people to gamble anonymously especially when casino follows the FairPlay rule and don't cheat users. Unlike standard gambling games which are based on randomness, online gambling has an algorithm. It excludes any possibility of cheating, which is a regular practice in B&M (Brick and Mortar) casinos that work with real money.
Do you believe cryptocurrency will further impact our lives in the future, though?
Now it is a niche application only and is used by enthusiasts. We believe that in future we'll be able to purchase grocery in any local supermarket for Bitcoins and other cryptocoins.
Fantastic! Are there other details you wish to share with the online gambling community?
At the moment we've started an affiliate program for everyone in Dicecoin—both customers and non-clients. Soon there will be added a "Free BTC" bonus system.
Thank you very much for your time!