Ever since Bitcoin was introduced to the online gambling community, real-money platforms have shunned the idea of integrating the cryptocurrency networks to its systems.
However, due to the unstoppable rise in popularity of Bitcoin gambling sites, fiat-currency casinos are now gradually embracing this new gambling innovation that is Bitcoin.
Since digital money and fiat-powered platforms are now in a harmonious relationship, bettors are now offered with a variety of platforms that cater to both currencies.
Although this is a monumental achievement in the history of iGaming, there are still platforms that stick to Bitcoin rather than embrace this latest trend.
Given this scenario, online gamblers cannot help thinking if there are any differences between multi-currency gambling hubs and Bitcoin-only casinos.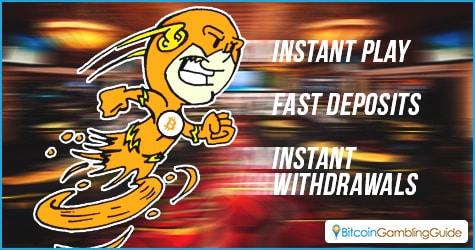 Cryptocurrency casinos excel in fast-paced actions
Although both platforms have integrated Bitcoin's technology, Bitcoin-only casinos still have the upper hand when it comes to platform speed.
Since Bitcoin itself is designed to enable instantaneous transactions, it is but right for Bitcoin-powered platforms to have the same ability. In fact, speedy transactions are not the only advantage these gambling platforms take pride in.
Cryptocurrency-enabled platforms offer fast-paced actions such as instant gameplay and access to the site's entire features without the need to register for an account—which is entirely absent in most casinos that accept both Bitcoin and fiat.  There are other more Bitcoin benefits in online casinos.
Take CryptoGames.io for an example. This online casino only accepts cryptocurrencies like Bitcoin, Litecoin, and Dogecoin. Since it functions under the cryptocurrency network, all of its features and functions can be accomplished with just a click or two.
The greatest advantage of cryptocurrency-only casinos is it eliminates waiting time when it comes to fund management.
Bitcoin-dedicated platforms allow its gamblers to experience fast-paced deposits and withdrawals with little to no transaction fees. After all, Bitcoin is also designed to conduct instant transfers between users, regardless of their locations.
This feature, however, is also prevalent in most Bitcoin and fiat casinos. The only problem is the majority of cryptocurrency functions like Bitcoin withdrawals are unavailable since these platforms' designs are still geared toward the benefit of gamblers who prefer fiat over cryptocurrencies.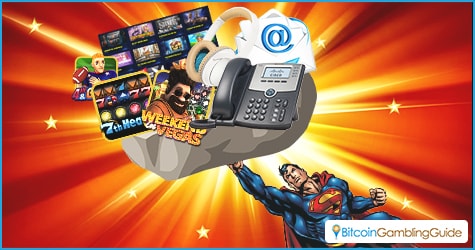 Multi-currency platforms boast effective support and variety of games
On the other hand, most Bitcoin-only casinos disappoint when it comes to having an effective set of customer support options. Usually, these platforms only offer email support to bettors that are experiencing anomalies when it comes to payouts and technical difficulties on the site.
This is where multi-currency casinos hog the spotlight.
Unlike Bitcoin-only casinos, the majority of betting platforms accepting both currency types are known to have a complete array of customer support options that include email, phone, and live chat. Casinos like Gossip Slots offer all of these support choices.
Moreover, when it comes to the selection of games, multi-currency gambling sites remain on top of the race. This is mainly because these platforms have more ability and resources to come up with a diverse set of gambling games as compared to Bitcoin-only casinos.
Take for instance 7BitCasino. This online casino is one of the most diverse platforms to offer online gambling games produced by a variety of software providers like Endorphina, Softswiss, Microgaming, and more.
Both platforms possess benefits and disadvantages that make them stand out from other. At the end of the day, it is all up to casino players to decide which platform triumphs over the other. Nevertheless, both cryptocurrency and multi-currency platforms adhere to a principal mission—to spread gambling entertainment among Bitcoin casino enthusiasts.