One of the facts about sports betting is that it is not an exact science. Predicting the future is difficult, especially when it comes to tests of skill like sports competitions. A dozen factors can affect the outcome of any match: injuries, weather conditions, and more. However, when sportsbooks come up with the odds for the bets they offer, they mainly look at a person's past performance.
This is why a lot of high-ranking and skilled players in a variety of sports are given favorable odds when they compete. For sportsbooks to make a profit on the match, though, these odds usually yield low pay outs, while the odd for their opponent often encourage bettors to place wagers on them because it would pay out big.
This sometimes backfires like when Leicester managed to beat the odds and became champions at 5,000 to 1 odds. This weekend saw another upset as Novak Djokovic got knocked out of the Wimbledon tournament by Sam Querrey.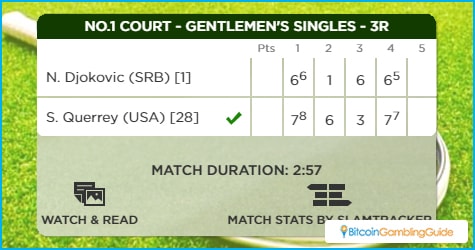 Surprising loss
After Djokovic won the French Open, his Wimbledon loss is a big upset and definitely a big surprise. This stems from the fact that Djokovic is the world's number one tennis player, while Querrey trails behind at number 41. A lot of people were expecting Djokovic to just coast through this match. The problem was there were a couple of factors that no one expected that contributed to a loss for Djokovic.
First, there was the fact that the match underwent a couple of rain delays. The match officially started Friday, but strong rains eventually put a stop to the match. The game had to be resumed Saturday, but also managed to be delayed again. It ended Saturday afternoon with the score 7-6 (8-6), 6-1, 3-6, 7-6 (7-5) in Querrey's favor.
The delays would have seriously disrupted the rhythm of play and given Querrey a chance to recover. Second, it seemed that Djokovic was not 100 percent in full health for the match. Some analysts have pointed out that Djokovic's serves have been getting slower and he did not seem to have full energy. Djokovic himself confirmed it in an interview after the match.
No matter what the cause, though, it was a big upset, with those who bet on Querrey coming home with a big pay day.
Shuffles the odds
This Djokovic defeat has more ripples, though. This loss also forces Djokovic out of the competition. Sportsbooks that had outright bets on the Wimbledon champion have already removed any odds placed on him. In addition, it boosts the chances of the remaining powerhouses.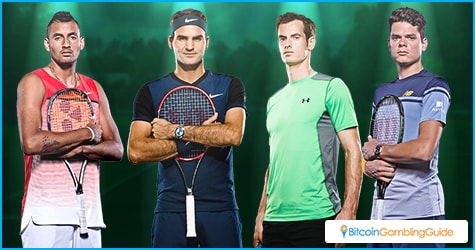 Sportsbooks like Nitrogen Sports and VitalBet have certainly raised the odds on Roger Federer coming out as the ultimate winner in the competition. However, he is still not the clear favorite. Andy Murray has become the apple of many sportsbooks' eyes as the potential champion, while dark horses like Milos Raonic and Nick Kyrgos wait in the wings.
Djokovic may have missed out, but with his defeat, the championship is now up for grab, increasing the tournament's excitement.