Enjoying real rewards of online gambling entertainment begins with creating an account, as is the case in most Bitcoin casinos.
Daily perks, regular promotions, and other member-exclusive giveaways await all kinds of players, so long as an email address or a Bitcoin wallet address has been registered. This step is normally overlooked in real-money iGaming, but it is a completely different story in Bitcoin gambling.
At the forefront of promoting player anonymity, Bitcoin gaming exhibits different ways bettors can join an online casino, be it Bitcoin-only or multi-currency. These varying methods also yield distinct sign-up processes, which either give new players favorable or forgettable first impression of the casino.
While in the height of their popularity and hype in today's market, here are three Bitcoin gambling sites that feature their own styles of account registration.
Registration speed matters
Bitcoin gambling is known for instant and hassle-free transactions; hence it is inevitable for players to expect the same when it comes to signing up with a Bitcoin casino.
The team behind BitCasino.io knows how important quick registrations are for Bitcoin players, and this resulted in the 15-second registration process featured on the website. With only at least six fields to fill in, the sign-up form in this CoinGaming.io casino is such a breeze for players who want to get started betting right away.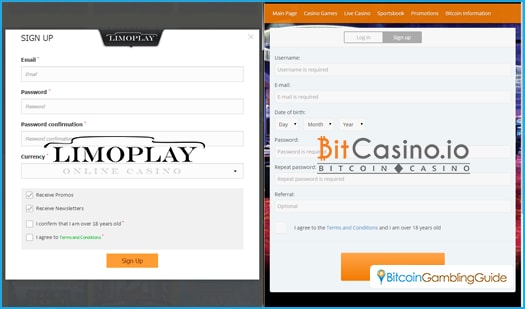 It helps that BitCasino.io accepts Bitcoin payments only, so there is no need for interested gamblers to provide the personal and financial details required in real-money online casinos.
Catering to both Bitcoin and fiat currencies, however, is not even a factor that can impede the convenience and speed of signing up. Take LimoPlay for example.
This online casino, which runs on the SoftSwiss platform, uses a player-friendlier form since it has fewer fields needing to be filled in. But the saving factor of BitCasino.io is that it adheres to form layout that is more acceptable to the eyes with the columnar, vertical structure.
LimoPlay's option to instantly select the preferred currency of the player makes the entire process faster.
More flexibility, more convenient
With LimoPlay's drop-down menu for the currency to be used, nothing can be more flexible than that at first glance. Even choosing USD as the currency will instantly register the account and bring to the next step that is email verification.
Real-money players might think that providing their personal details is unnecessary, but another form must be filled out before they can start depositing funds in US dollars.
VitalBet, an online sportsbook and casino powered by UltraPlay, beats LimoPlay in this regard.
Also accepting both fiat and the digital currency, VitalBet features a registration form that automatically changes to a simpler and more condensed form upon selecting Bitcoin as the preferred currency. The registration form for real-money players is initially flashed, but Bitcoin players easily gain access to creating an anonymous account.
This eliminates the need to fill out another form just to make a deposit, thereby making this Bitcoin sports betting site more flexible and convenient to register with.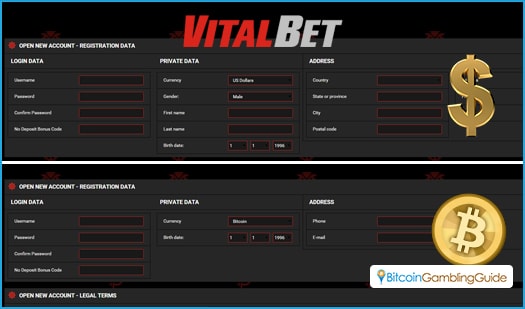 Built for Bitcoin gambling
If gambling with bitcoins is the main focus, however, BitCasino.io's registration process could not be any easier.
Although LimoPlay's form takes fewer seconds to complete, it may be a cause of trouble among players who are not adept in online gambling, let alone the idea of having both fiat and Bitcoin on board. Since Bitcoin is the sole currency that operates BitCasino.io, there will be no confusion on the part of the players even in the very first step of account registration.
LimoPlay allows for faster signups, but BitCasino.io edges the other by being an online gambling platform designed exclusively for Bitcoin.
Each of these Bitcoin gambling registration processes reflects the different ways players can join the excitement in playing and winning bitcoins.
While there may be no clear-cut equation in finding the best registration form for an online casino operating in the Bitcoin market, there are certain points that can guide players in pinpointing which best suits their preferences.
Which one of the three do you find more effective and convenient?