Play'n Go has a reputation of creating games that bring in the crowds. This is thanks to the eye catching graphics and enticing mechanics of each of their games.
Two of the amazing Play'n Go slots that players of Bitcoin slots should not miss are 7 Sins and Energoonz. Players can find these games in popular Bitcoin casinos such as 1xBit and Bitcasino.io.
7 sins
The first thing a player will notice in 7 Sins is the theme and artwork. The 7 familiar sins are 7 beautiful women wearing voluptuous Victorian era dresses. Each woman shows off different traits of the sin they are representing. The personified sins are the games high payout symbols.  The color scheme and background fits the theme of the 7 Sins slot.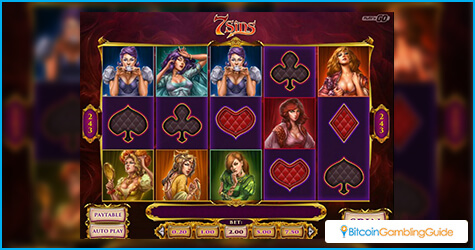 7 Sins is a 5 reel slot with a '243 ways to win' feature. Basically, this slot has 243 pay-lines instead of the common 10 or 20 pay-lines as other slots have. By having this feature, players have a good way of taking advantage of the game's bonus feature by adding more coins to turn on more pay-lines.
The big bonus feature of 7 Sins is the 'Free Spins' mode. Players simply match the scatter symbol, the golden chest with a beastly shape figure, to activate the mode. During this mode, the players are given 7 free spins with an increasing score multiplier for each spin. The 7 spins only show one of the 7 Sins symbols as well as an expanded version of it in the middle reel. Players have a good chance of winning their bet in each free spin thanks to this feature.
Energoonz
The 5 x 5 slot reel Energoonz has a lot of things on screen that attract attention. The artwork of the symbols has a cartoonish and colorful style to it. Each symbol has their own unique animation as they fall into the reel.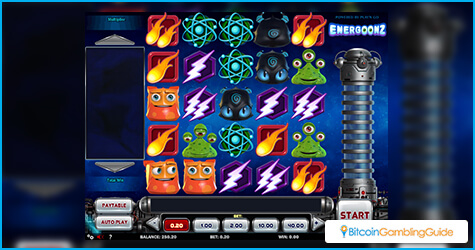 At first glance, Energoonz looks like a mobile puzzle game instead of a slot game. By this definition though, Energoonz has a similar feature.
In Energoonz, the symbols fall down on the reels. When a player matches a set of symbols, these symbols disappear and an energy ball takes its place. The ball acts as the wild symbol of the game. The player gets an increasing score multiplier each time they can match the symbols.
There is a bonus game in Energoonz. Players can reach this bonus game by clearing a column to reveal the word 'BONUS' in the background. The bonus game has different mechanics to the main one. In this mode, the reels contain a different set of sleeping alien symbols. Players can match these symbols if five or more show up in the reels regardless of their location. The bonus game symbols have a higher payout than the main symbols of Energoonz.