The International, Dota 2's biggest event, has just finished its Group Stage. Last week saw over 16 teams clashing in best two out of three matches. The set-up was a round robin tournament that lasted for three days.
With the teams divided into two groups, they earned points for each victory. This week, the top four of each group will start fighting it out in the main event's upper bracket, while the lower ranked teams will have to face each other in the lower bracket.
A stirring warm-up
It was in The International Group Stage that many saw some of the best Dota 2 gameplays this year. For Group A, the big winner is OG. They already have two Major championships—one in Frankfurt and another in Manila—and are considered the frontrunners for the entire tournament. They did not have it easy, though. The team lost games against Evil Geniuses, LGD, and Wings Gaming.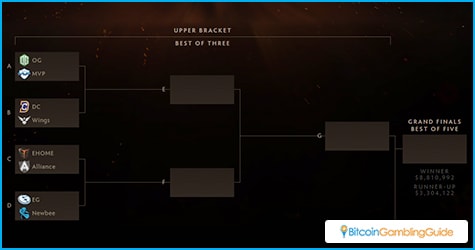 As for Group B, EHOME only suffered two losses, this time to Digital Chaos and Team Liquid. Other teams that managed to get into the Upper Bracket include MVP Phoenix and Newbee. These two teams showed off significant flare and aggressiveness in their matches and have been well rewarded. Team Secret almost faltered, but they managed to eke out a 2-0 win over Team Liquid that assured them an Upper Bracket slot.
The big losers of the Group Stage have been relegated to the Lower Bracket. Two of the fan favorite teams, Na'Vi and LGD Gaming were unfortunately put into the Lower Bracket. Team Liquid also managed to get dropped into the cutthroat bracket by their defeat.
It should be noted that even low-placing teams, which are those who are at rank 13 to 16 at the end of the International, will get at least $98,694 from the prize pool. However, this is nothing compared to the over $8 million grand prize.
The main event
This week's The International Main Event will be a roller-coaster ride. Upper Bracket matches are best of three, with the losing team being eliminated. This gives the chance for teams to fight back and make for a thrilling match.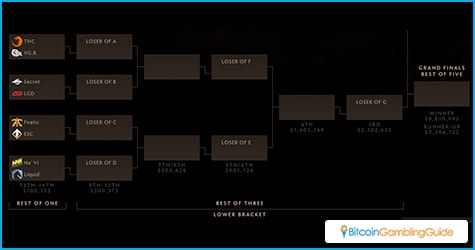 Today will see OG and MVP Phoenix battling it out in the first match, while it is followed by the Digital Chaos and the wings gaming match. Both of these are for the Upper Bracket. Nitrogen Sports and BetBaller, which happens to have a 150 BTC EPL giveaway, has already posted odds and both of these sportsbooks favor OG and the wings gaming coming out on top.
After the Upper Bracket matches come the Lower Bracket ones. The big difference is that instead of being best of three, these are single elimination matches. The matchups will be: TNC Pro vs. Vici Gaming Reborn, Team Secret vs. LGD Gaming, Fnatic vs. Escape Gaming, and Na'Vi vs. Team Liquid.
These are all good teams and the odds on them are only a few decimal points. These close matches will only make watching them interesting. This first day will be definitely an eSports treat.