Fresh in the Bitcoin gambling scene is Endorphina, an online gambling content provider that is currently preparing a special project dedicated to show the Bitcoin community its appreciation. This company features high-quality games that are now hosted on Coingaming.io brands like Bitcasino.io.
A CoinPoint correspondent spoke with Jan Urbanec, sales manager at Endorphina, to know more about the company's viewpoints regarding the Bitcoin casino market and the digital currency, as well as its plans for its run in the iGaming industry.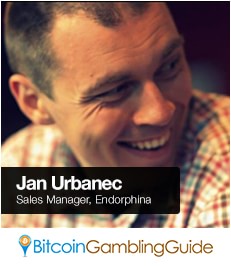 How did you stumble upon Bitcoin?
The knowledge of Bitcoin in general at Endorphina is fairly good, even though it is only the basics, but everyone in the igaming industry knows about it in general.
For me personally it was during a forum discussion on building a self-sufficient online poker network so the players are not punished by big rake. After a while we arrived at a conclusion, that in order to build our own network we need to be independent of the payment processors then somebody mentioned Bitcoin. After reading the concept of blockchain and the decentralization options I was sold on the idea. From that day I always try to push the Bitcoin idea whenever I can and thankfully at Endorphina it was very possible.
How would you describe the relationship between your business and cryptocurrency?
For us Bitcoin is a facilitator. Since Endorphina is a B2B endeavor we can more efficiently settle the bills so to speak. The global nature of Bitcoin allows us not to get lost in currency transactions, which are sometimes and issue in our industry.
Being able to determine exactly how much a player won on our game, transfer that information to our customer then implement that into an invoice and then into accounting – without ever needing count in fiat – is of great value for us.
Bitcoin is a tool that gives our customers freedom and our company a seamless value flow.
What is Endorphina's main purpose or role within the Bitcoin ecosystem?
Since we are in the entertainment industry we need to show that Endorphina, like a real entertainer, knows no obstacles to show people a good time. Our role is small and maybe not critical for Bitcoin to succeed, but it surely is an important one to validate the existence of Bitcoin for players.
Since our company is young, our goal at this point is for people to recognize Endorphina by its games. And I believe that the defining moment in our company grow was the presence we had this year at ICE Totally Gaming. Thanks to that now our name rings out and we can finally show our customers and players the true value our product offers.
In what ways does it positively impact the global promotion and adoption of Bitcoin?
Definitely adoption. The customers in igaming have now, thanks to brands like bitcasino.io, access to services like instant deposit and more importantly for them instant withdrawal. This was never an option with the fiat payments processors.
Do you have any opinions regarding Bitcoin gambling?
Of course. Simply put it's the way the igaming industry should be looking. The less obstacles you put between players and providers the easier is the interaction. This goes both ways.
What are the major challenges do you think this industry as well as your business face to further your cause?
The notion that igaming is a toxic industry and not secure for players. You know what the difference is between playing in Vegas and playing from the comfort of your home is? Only in one of those places will the pitboss kick you out for playing Blackjack by trying to gain some edge.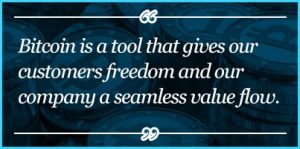 Now that Endorphina is part of the Bitcoin gambling industry, how would you describe the Bitcoin economy at present?
Not good enough. Simple as that. Everybody wants to be an innovator and the next entrepreneur that finds the hole in the market. But for me the greatest accomplishment will be when someone provides a truly reliable a trustworthy service that will last.
How do you see Bitcoin stabilization in the next five years?
As mentioned in the previous answer, many will fail but the ones that will endure the five year period will gain mainstream recognition and thus validation. The stability of the price of Bitcoin will reflect how many business ventures become the defining standard.
Is it safe to say that you have arrived at a Bitcoin price prediction?
I don't like wild speculations on price of Bitcoin. But I will give you a popular one – imagine 1 Bitcoin will equal 10 000 USD in five years. What does it tell us about Bitcoin? But more importantly what does it tell us about the USD? What will be the real buying power? We cannot determine that from simple numbers without context.
Interesting. On the other hand, do you think altcoins or the Bitcoin 2.0 technology will benefit the future of Bitcoin?
Personally I see altcoins as irrelevant in terms of value transfer. They are the bringers of innovation, but never the real players.
Going back to Endorphina, what are your plans? Will it be expanding or are there similar projects in the works?
To keep providing great games for players and flawless service for our customers. Expansion is the name of the game. We don't plan to spread ourselves thin and misplace resources into other projects. Focus is paramount and we won't lose it.
What advice can you give to the thousands of Bitcoin enthusiasts, especially to new adopters? How about to the entrepreneurs?
Behave like customers. Spend Bitcoin, use it in the maximum areas of your life as possible. The dollar has become globally the dominant currency thanks to spending, not hoarding. And if you want to become a successful Bitcoin business you need to encourage that.
Very well said, Jan. Thank you for this opportunity.